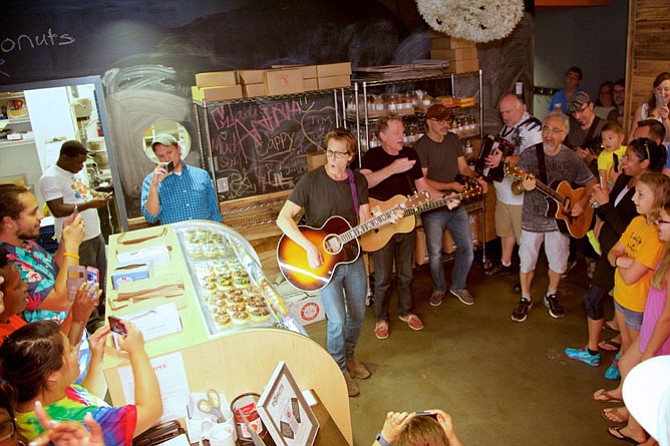 Alexandria — Through Kevin Bacon's non-profit organization Six Degrees, he and other celebrities are making continual efforts to give back to the community through charitable and social opportunities to connect on a more personal level with the people and fans. "Social networking with a social conscience" according to Bacon in a statement on his website, www.sixdegrees.org.
He and his band appeared in a pop-up performance of "Footloose" at Sugar Shack Donuts, 804 N Henry St., on Saturday, July 18. They were in concert at the Birchmere Music Hall on July 16.
"Many said it was a fantastic way to kick off their Saturday morning," said Liane Tacktill of Sugar Shack who was working at the time of the pop-up performance. "Kevin's energy was amazing and the performance was upbeat, fun and everyone in the place was singing and dancing along with them."
Through Bacon's efforts with Six Degrees and his band's charity tour, he made surprise visits and performed around the D.C Metro area including Sugar Shack, Port City Brewery, the nonprofits No Kid Hungry in Alexandria and City Blossoms in the District. "How generous of him to consider us a place to publicize; music is right in your backyard," said Lola Bloom of City Blossoms.
Sugar Shack hopes the pop-up brought light to the different services the shop provides for the community, such as Donuts for Doing Good and their involvement with the Carpenter's Shelter, which accepted the donation of proceeds of the maple-bacon donuts sold on the day of the visit.
See www.sixdegrees.org