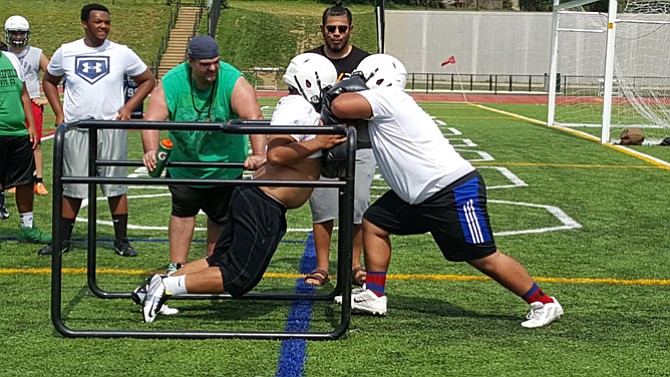 The Wakefield football team's 2014 season is a tough act to follow.
The Warriors experienced their first winning season since 1983, and their 7-3 regular-season record was the school's best since 1972. Wakefield hosted a playoff game for the first time in program history and defeated Potomac Falls 25-18 before falling to Tuscarora in the 5A North region quarterfinals.
Eight months later, many of the athletes who helped Wakefield produce one of the best seasons in school history are back for the 2015 campaign.
Ask some of the Warriors about their expectations for the coming season and they seem focused on continued success.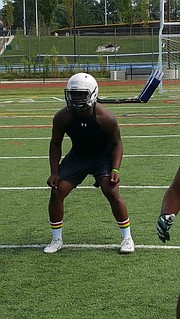 "We're going to aim high — aim as high as we can," rising senior linebacker Kevin Greenwell said. "Expectations are set way higher than last year."
"We're going to approach it the same way we approached it last season," rising senior running back Kareem Hall said, "we're not going to let any team sleep on us, we're not going to sleep on any team."
Rising senior running back Leon Young said he wants to "raise eyebrows" in the fall and "make it a show."
Third-year head coach Wayne Hogwood, however, isn't so sure the Warriors know what's coming when they open the season in September.
"This year, for us as coaches, we know that people are going to come give us the 'A' game and that we're not going to be a sleeper on anybody's radar because we've proven ourselves over the last two seasons that we can at least be competitive, but I don't think [the players] know it yet," Hogwood said. "I think the success of last year came so fast that they just expect to be successful — which is part of it . We want that mentality and that attitude, but we've got to get the same work and we've got to learn that little small things that shot us in the foot a year ago or two years ago can be detrimental to having the type of season that we think we should have this year."
For the Warriors, 2015 is uncharted territory.
"We've never been the hunted at Wakefield," said Hogwood, a 2000 graduate of the South Arlington school and former quarterback who held the program's single-season passing yardage record for 12 years. "That makes it difficult."
On offense, Wakefield will need to fill the void at quarterback left by 2015 graduate Riley Wilson, who started for two seasons after transferring from Yorktown. The top candidate to replace Wilson is rising junior Tim Stroble.
Rising sophomore Colton Poythress, who started on the freshman team during his eighth- and ninth-grade years, is also competing for the job.
Helping ease the young quarterbacks' transition to the varsity level will be running back Young, who was a standout last season and is expected to have an even greater role this year.
"I think the offense at this point goes through Leon," Hogwood said. "... If he was on any team in the region, the coach would want to get him the ball 20 times a game or more."
Hall and rising senior receiver Chris Robertson also figure to be offensive threats.
The offensive line returns four starters: rising senior left tackle Julius Johnson, rising senior center Miles Kerby, rising senior right guard Ryan Jones and rising junior right tackle Ian Harris.
On defense, the Warriors' 3-4 scheme is anchored by rising senior nose guard Anthony Tham, who is also a kick-blocking force on special teams.
Greenwell is a tackling machine at inside linebacker. Rising senior defensive end Maurice Gaskins, and outside linebacker Robertson are also defensive playmakers.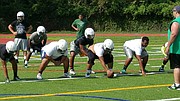 Three of Wakefield's first four games are on the road. After opening at Broad Run on Sept. 4, the Warriors will travel to face Yorktown on Sept. 11. Wakefield will host Washington-Lee on Sept. 18 before traveling to face Falls Church on Sept. 25. The Warriors then have four of their final six regular season games at home, starting with Mount Vernon on Oct. 2.
"I think anything under seven wins, we messed it up," Hogwood said of Wakefield's expectations. "... If we come out and do what we're supposed to do and our players play at a top level and we coach at a top level, I think seven wins or higher is the expectation we should have in our conference (13) every year."
How the Warriors handle being "the hunted" will likely impact Wakefield's level of success in 2015.
"I want them to be a little bit arrogant, to think that anybody that comes to play us is going to get a great game and that we can beat anybody who we step on the field with," Hogwood said. "But at the same time, you can't just show up to win. We've got to put the work ethic behind those things to make all that come to fruition.
"... I just hope that eight wins last year and a playoff win didn't fill up their belly."