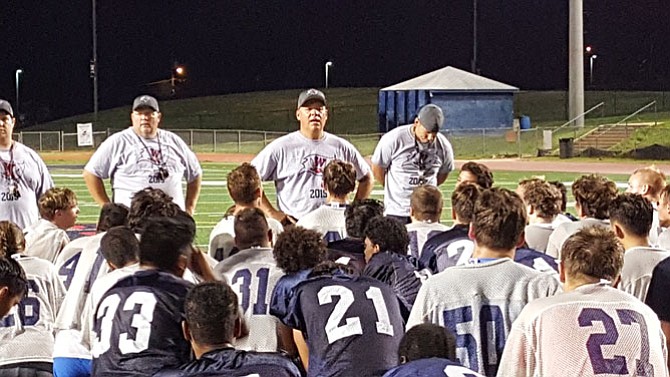 Mike Dougherty stood on the Woodson High School football field in the early hours of Aug. 3 and shared some of the more troubling observations from his first season coaching the Cavaliers.
He talked about the team's lack of toughness on defense during the 2014 campaign: "We were by far the worst tackling team I ever saw in my life last year. I felt like we were in positions to make plays on defense, we just lacked the toughness to tackle when we needed it most."
He mentioned the Cavaliers were intimidated by certain opponents: "Last year, I felt like [when we played] certain teams we'd just tuck tail and run, and that was something totally new to me."
The end result for the Cavaliers was a 2-8 record. Woodson closed the season with a five-game losing streak, surrendered an average of 53 points during its final four contests and was outscored 138-15 in its last three games.
DOUGHERTY wasn't afraid to discuss the Cavaliers' shortcomings. However, the timing and location of this particular conversation revealed steps he was taking to fix some of the problems that plagued Woodson last fall.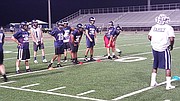 It was a little after 1 a.m. Monday and the lights above Pat Cunningham Stadium illuminated the football field. The Cavaliers had finished a "midnight madness" practice and players were on the way to the locker room to shower. The Cavaliers were spending the night (and the following night) at the high school, and faced a 5:30 a.m. wake-up call to go jogging.
Dougherty had utilized midnight practices earlier in his coaching career when he was at Dominion High School in Loudoun County. The desired effect Monday was to instill toughness in the Cavaliers while building camaraderie and confidence.
"We were just trying to put them through the worst possible scenario so that everything else seemed a little bit easier when it came to competing and playing in the games," Dougherty recalled of his time at Dominion. "And the team bond that you get out of something like this, you can't replace it. These guys are going to be talking about tonight 20 years from now. As much as we want to win games and put trophies on shelves, we're about creating memories, building a team bond and teaching these guys push through something tough and usually you end up on a good note."
Offensively, Woodson will once again run an up-tempo spread scheme with a goal of running 80 plays per game. Dougherty said the team averaged 75 last season, including a 107-play output during a 72-56 loss to Annandale.
Rising junior Jojo Heisley is the front-runner to start at quarterback. Heisley started two games at the end of his sophomore season.
"I'm excited for [the season]," Heisley said. "Odds are stacked against us. We were ranked seventh in our conference [by VHSL-Reference]. ... I'm ready to prove them wrong show them what we can do."
Heisley's top target figures to be rising senior Jack Caldwell. Dougherty said he expects Caldwell to catch 60 passes this season and play defense, as well.
"He just goes up high and gets the ball," Dougherty said. "He's real long. Through the 7-on-7s this spring, if there was a ball up and it was him and another guy, he was getting most of them. He's doing a much better job of route running and understanding the concepts of stemming and getting into the spaces we need him to get. Now we've got to get the quarterbacks clicking with him.
"I think he'll be a top receiver in the area. We're going to target him 15 times a game."
Rising senior Chris Gardner and rising sophomore Daequan Williams will see time at running back.
Rising senior guards Mike Fox and Don Stedham anchor the offensive line.
Defensively, Woodson operates from a base 4-3 alignment. Linebackers
Torin Shanahan, a rising junior, and Nolan Brahmey, a rising senior, are two of the Cavaliers' best defenders.
WOODSON will scrimmage Marshall (home, Aug. 20) and South Lakes (road, Aug. 27) before opening the season at home against Chantilly on Sept. 4. The Cavaliers will travel to face Robinson on Sept. 11 and will host Fairfax on Sept. 18 before opening Conference 7 play on the road against Annandale on Sept. 25.
"We've got to focus on pushing through the entire season," Caldwell said. "Last season, toward the end, we all lost heart and ended up losing the last several [games] pretty bad. That's a big part of it; is not giving up the same way we did last season."
Dougherty said the Cavaliers have a goal of making the playoffs in 2015.
"[We need to] get these kids believing that they can compete with these teams around here because they can," Dougherty said. "Obviously, we've got to do a lot of things right, but just because Robinson comes over here doesn't mean we should run and hide."