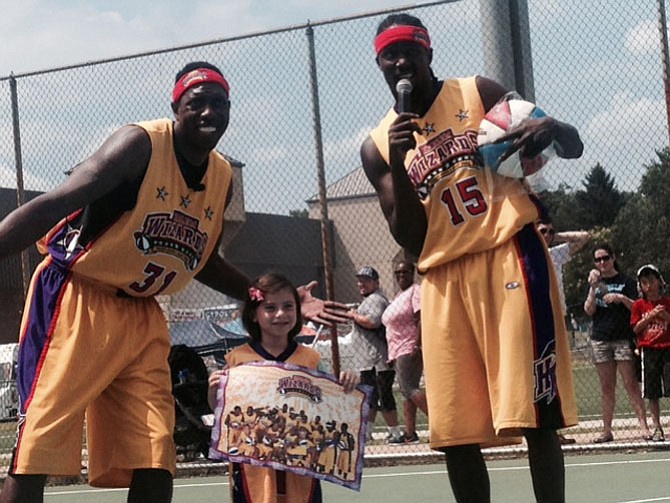 Grace Dennis held on tight as she dropped from five stories in the air. The ride is the Super Shot, and like fair itself, it's a fair staple, but it never gets old. "I feel like my pelvis is now in my stomach," Grace said after coming off the ride.
For the most part, regular Arlington County Fair-goers know what to expect when they get there, it may be part of its appeal. There are rides, funnel cake, local talent, pony rides and more. Most of this doesn't get old, particularly for the children. "This is her second time on this today," said Rob Berthold as he watched his daughter, Kyla, 5. "She's been here everyday since Wednesday." As he speaks, Kyla is standing inside a large inflated ball as it floats on water. These are water walking balls, another child favorite. What keeps the Berthold family coming back? The rides, but also, Kyla submitted a winning entry into the fair's competitive exhibits. "She won Grand Champion for her knit scarf," her father said as he watched his daughter tumble. It was Sunday and the family had come to see her ribbon at the Exhibit Award Ceremony.
As ponies slowly amble in a small circle in the hot sun, for a moment, one can't help but wonder about the appeal of pony rides. But then, you see the youngsters. Some nervous, some gleeful, but all filled with a bit of anticipation about the experience. Max Zamorano, 18 months old, is one of the more excited children. He raised his hand in the air with happiness. He looked like a little cowboy. It was his first pony ride.
But it's not all about the rides. She swings her hips, pumps her arms, and steps in time to some hot beats. She's Mimi Hatchett, Vibes instructor. Her energy is contagious. Sweat bullets are flying as audience members try to keep up with Sweatvibes, a dance workout group. Three audience dancers in particular have decided to join in. "Never did it before," said Chris Jones. What made them do it? "The music and everyone. They looked like they were having fun."
Tenley Schvimmer, 6, plays basketball on the weekend and has taken some classes. Nevertheless, her challenger at the fair is formidable. John Smith of the Harlem Wizards challenged Tenley to steal the ball from him. She has only seconds. Can she do it? She reaches left, then right, then left again. Finally, success: She grabs the ball, with a huge smile of triumph. In the Harlem Wizard's show, this happens everyday, it's all about, smiles and fun. The youngsters win every time. They leave with prizes and maybe even a memory of having done something unimaginable on the basketball court.
There are those who still go the County Fair for its traditional roots, for a chance to show off agricultural, culinary and artistic prowess. "I taught myself," said Mary Martha Churchman about her knitting. But that was several years ago. Churchman has been entering her knitting into the fair for over 30 years. She's not sure (she's won several competitions over the years) but Churchman thinks this may be her first year winning Grand Champion in the Needlework and Wearing Apparel class. She carefully explained the different age levels and categories in the exhibit competition. Churchman knows her way around the Arlington County Fair. She's the Superintendent of Needlework and has been a volunteer since 2012.
More like this story