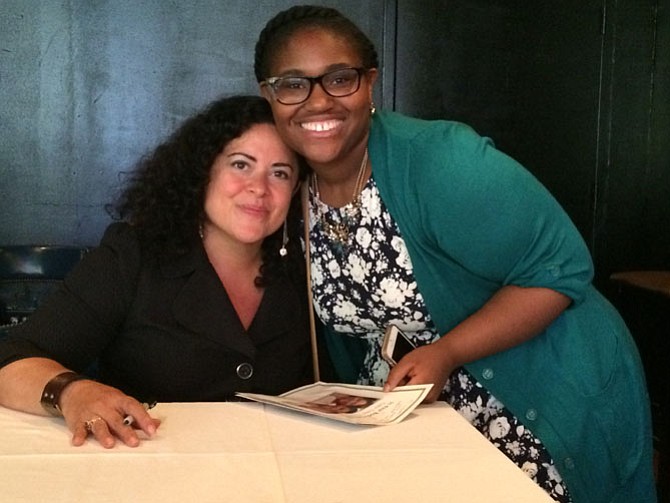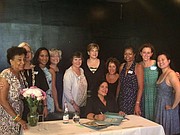 The survival rate of ovarian cancer is a grim 44 percent, and symptoms are described as obscure at best. But, early detection of the disease yields a survival rate of over 90 percent. That's hopeful. Rhonda's Club — Ovarian and Gynecologic Cancer Coalition — wants to spread the message of awareness.
The organization hosted a book signing event Sunday, Aug. 2 at Busboys & Poets in D.C. featuring Dr. Maya Soetoro-Ng, educator, professor, activist, advocate and sister of President Barack Obama. The speaker shared that after their mother — the late Stanley Ann Dunham — was diagnosed with ovarian cancer she died 11 months later. "This event is about raising awareness because D.C. has the highest mortality rate of ovarian cancer," said Leigh Chapman, the Rhonda's Club responsible for bringing Soetoro Ng.
Although the subject matter was somber and serious — ovarian cancer — the message was positive. "My mother was my best friend, and she was like the moon," said Soetoro-Ng. "The moon is a connecting force. No matter, where you are in the world, on a rooftop in Indonesia, Pakistan, New York City, the moon, is the same; it's what we share, " She chose the moon to tell a story about her mother's loving spirit and willingness to help all in need. Her inspiration to write the book, "Ladder to the Moon," came from an innocent inquiry from her daughter (Suhaila, now 11 years old) about her grandmother.
Since storytelling was a major part of her mother's life, Soetoro-Ng decided a children's book would be a loving tribute and lasting introduction of her mother to her children. "Ladder to the Moon" explains the interconnectedness to one another, nature, and the moon.

Soetoro-Ng told stories of her mother making holidays special for her with everything from a sad looking pregnant goat for Easter to red and green chili peppers on a pile branches as a Christmas tree or waking her up in the middle of the night to go witness the majesty of the moon on rooftops. She admitted that back then she had not welcomed these exploratory visits but is now happy to cherish the memory of those moon moments with her mother.
Soetoro-Ng spoke about how her mother was told she had appendicitis when, in fact, the correct diagnosis was ovarian cancer. That is the problem with ovarian cancer. "We would like to get more information out there about ovarian cancer and its symptoms to people who aren't aware of the disease," said Chapman.
"Its symptoms are obscure, but we are hopeful for the development of a screening for the disease like that of breast cancer with the mammogram," said Rosemary Reed Miller of Alexandria, a member of Rhonda's Club. After Soetoro-Ng spoke, she took questions from the audience who seemed to be interested in everything from the best advice given her by her mother to the influence of her grandmother. "You are extremely powerful — go and claim your womanhood," Soetoro-Ng said as she retold some of the advice her late mother and grandmother gave her in her formative years.
"Response to celebrity is something that serves to boost the interest in any given cause. We were fortunate to have someone like Dr. Maya Soetoro-Ng, to champion our shared cause of raising awareness and advocacy around ovarian cancer," said Reed Miller.
Soetoro-Ng ended with one of her mother's favorite sayings: "My mother told me to embrace my ability to build bridges of understanding and lasting relationships."