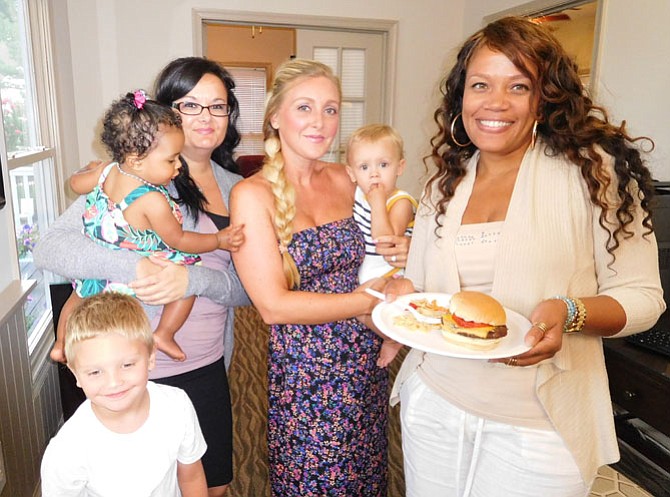 Take some firefighters, law-enforcement personnel and local residents; add in food, fun, handshakes and conversation in a relaxed, neighborhood atmosphere. Mix well, and the result is National Night Out.
Held each year, the first Tuesday in August, the event gives first-responders and community members all across the country a chance to mingle and form relationships. It also promotes partnerships, camaraderie and a sense of neighborhood solidarity, while enabling residents to discuss issues concerning them with the police who patrol their communities. This year's event was last Tuesday, Aug. 4.
The Elms of Centreville
At The Elms of Centreville, off Braddock Springs Road, rain brought the celebration inside the community center, but couldn't dampen the festive spirit. Residents chowed down on hamburgers, side dishes and watermelon, while enjoying music, each other's company and visits from firefighters and police.
"We just had the fire department at my apartment for a smoking electrical outlet, and it's nice to know who you're calling," said resident Jodi Rexrode, holding son Reece, 1. "They were here within 60 seconds of our phone call, and they made us feel completely safe in our home. We've been here two-and-a-half years and we love it; it's a nice community."
Friend Latuana Hicks, who's lived in The Elms more than seven years, said she, too, feels safe there. "I like all my neighbors, the Elms staff and the apartment, itself," she said. "And tonight's an opportunity for people to get to network and know their neighbors."
Joining the party were Fairfax County police officers Major Jack Hurlock, MPO Vitelio Orantes and Capt. Bob Blakley. While there, a woman asked Blakley to explain to her grandson why it was important that he and his younger brother wear their seatbelts in the car. Blakley told him it was "in case the driver hit the brakes suddenly, you wouldn't get hurt."
The commander of the Sully District Police Station, Blakey was attending his third National Night Out event that evening. Of the 14 celebrations slated within his district, he hoped to make it to at least half of them.
"It's a great turnout for all the National Night Out events in the whole community," he said. "And considering that crime is low, we've seen even a much bigger turnout than last year. For us in Sully, we've made a priority out of engaging the community, so we appreciate the positive feedback. We prefer these positive engagements over the negative ones, any day. We're just glad to be part of the community."
Greens at Fair Lakes
Residents of The Greens at Fair Lakes held their event in their community's playground. Parents chatted with each other and moms introduced their new babies to other moms while their other children ran around, played on the swings and slides and devoured cold ice creams in the 95-degree heat.
From the county Sheriff's Office, 2nd Lt. Stacie Talbot and 1st Lt. Jason Travis handed out bags containing a coloring book about keeping children safe. A nearly 20-year member of the Sheriff's Office, Talbot said it's nice to "get out in the community and let kids know we're here to help them, as well as police officers, firefighters and the rest of the public-safety personnel."
Sometimes, she said, children see deputies "taking them from their parents or taking their parents from them or keeping their parents in jail. So it's good to let them see a positive side of us, too."
Talbot is also involved with Project Lifesaver, which she started in December 2004. "It's for people with autism, Down syndrome, Alzheimer's and other cognitive disorders, who are prone to wander," she said. "We put a transmitter on them and, if their caregiver doesn't know where they are, we'll go find them."
Happy to be participating in National Night Out, Travis – who's been with the Sheriff's Office for 16 years – noted that "being a smaller office and being confined to the Fairfax campus of the courthouse and the jail, it's nice to get outside, into the neighborhoods. We get to interact with people on a different level and answer questions about the Sheriff's Office and what we do."
Rob Baer, a resident of The Greens at Fair Lakes since 1999, organized the event for his community of 190 homes. "It's a nice, safe area, with lots of kids and friendly people," he said. "Any time the community can partner up with law enforcement, it makes everything safer and adds a personal touch on the community level. And when the neighbors get to know each other, it makes it a community, not just a townhouse complex."
Attendees also included police Capt. Chris Marsh, the new commander of the Fair Oaks District Station, plus Lt. James Krause, who'll be the assistant commander there beginning in October. "Being new to the station, I wanted to meet people and get to see the community a little," said Krause. He's currently working at police headquarters at the Massey building and helped plan the recent World Police and Fire Games held in Fairfax County.
On National Night Out, said Marsh, "It's important to get into the community and show our support for each other. And it's something we look forward to every year — speaking to like-minded people interested in celebrating the safety of our communities. It's a meet-and-greet to see the neighborhoods and get our faces known [to the residents]."
Sully Station II
If there's one thing the residents of Centreville's Sully Station II community know how to do, it's party – and last week's shebang was no exception. Held both inside and on the grounds of the neighborhood's community center, it attracted some 350-400 people and featured a deejay, a moonbounce, sandwiches from Firehouse subs, beverages, cotton candy and ice cream. Before it even ended, said Dan Jenuleson who organized the event with his wife Leslie, "We went through 12, three-gallon buckets of ice cream."
And with so much to offer, the gathering proved popular with people of all ages. "Everyone gets together — it's like a giant family," said Stone Middle School eighth-grader Isabella Ibrahim, enjoying a sandwich outside with some friends. "And they have an awesome deejay here, too."
Police 2nd Lt. Dalton Becker, assigned to the Sully District Station, was there with the police mascot, McGruff the Crime Dog. "This is one of the best events out here in the district," said Becker. "I've been driving McGruff around tonight; everybody's always excited to see him."
Becker started his career here 17 years ago at the Fair Oaks District Station. He then served at the Sully District Station from 2006-09 and returned here again, a year ago. He said National Night Out is "a neat event for [the police] because we get to see people and socialize with them when there are no crises or issues. We live in such a busy area but, at this event, people are out and about relaxing when, normally, it's just go, go, go."
Also there was Fairfax County Police Chief Ed Roessler Jr. He was attending his sixth National Night Out event that evening and planned to visit more. "It's critical that we increase the engagement with our community to continue building trust between the police and the community — especially the youth," he said.
Meanwhile, reserve Deputy Sheriff Howard Frame said it's "good to show the public what we do. We're not the 'goon squad.' We're a friendly bunch and part of the community."
"National Night Out is a great thing for the Sheriff's Office and the community, and it's fun to do," added Capt. Sean Whitmore with the Sheriff's Office. "Working in the jail a lot, it's nice to get out in the community and talk to folks [about our jobs]."
Resident Diane Reddy came to the celebration because she enjoys the community and all the first-responders who support it. "We're always busy working, and this is a good way to get to know other people," she said. "People used to stay as far away from the police as possible, but we know they're human, too. They look out for us so we can know we're safe and we can sleep at night."

Various dignitaries also made the rounds of the various events, including U.S. Rep. Gerry Connolly (D-11), county Board of Supervisors Chairman Sharon Bulova and Sully District School Board representative Kathy Smith. It was Bulova's first visit to Centreville on National Night Out.
"Community policing and the relationship between the neighborhoods and our law-enforcement officers and firefighters are critical toward keeping us safe," she said. "And in Fairfax County, we do National Night Out really well. Neighbors make a big deal of it, and our public-safety personnel make a tremendous effort to get into the communities. Fairfax County is the safest jurisdiction of its size in the United States, and events like this help to make that happen."
For Connolly, it was his "21st year of doing this. It's a great way for neighbors to meet neighbors; and the more we do that, the safer our communities become. If we're isolated and don't know our neighbors, it's easier for criminals to prey on us. But instead, we're looking out for each other."