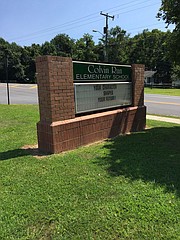 As summer comes to a close, elementary schools in the Great Falls area are hard at work preparing to welcome students to a new school year.
Among these schools is Colvin Run Elementary, located off Route 7 on Trap Road.
"This year, we look to continue our focus on developing the whole child, providing them with enriched learning experiences, and collaborating with staff, students, and families to create new opportunities for our school," said Kenneth Junge, principal of Colvin Run Elementary School.
Principal Junge cited making the school's Caring Culture a priority in educating the whole child and an emphasis on utilizing the nine Critical and Creative Thinking Strategies across the curriculum.
Colvin Run's Parent Teacher Organization (PTO) has set clear goals for the coming school year.
"As far as our PTO focus this year, it is to raise money through our Direct Donation Drive to purchase new laptops for our school," said Dianne Emery, Colvin Run PTO President.
Newly purchased 120 laptops will be used in a 1:1 model in several classrooms.
"The teachers will continue to utilize Google apps and other valuable resources to implement a 'blended learning' model within their classrooms," said Junge. "We are excited to increase our technology capabilities as this creates greater access and opportunities for all students at Colvin Run Elementary."
The PTO is also focused on continuing to grow their STEAM Lab, foreign language program and Music and Arts Programs.
According to Junge, Colvin Run was selected to open a new Preschool Autism Center in the fall. The school is also enhancing its playground by adding an Art integration area as well as garden beds in which the student-grown herbs and vegetables will be donated to area food banks.
As far as activities go, a Family Movie Night is scheduled for Friday, Sept. 25. "It is a great evening to bring new and returning families together, enjoy a picnic and watch a favorite movie," said Emery.