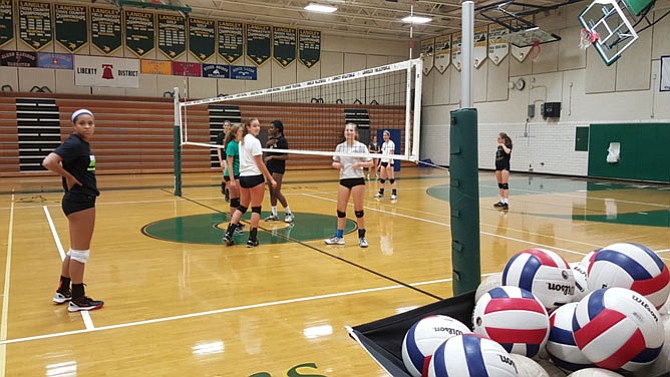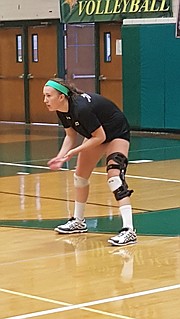 After earning all-state honors as a sophomore in 2013, helping the Langley volleyball team win the 6A state championship, Jessica Donaldson missed the majority of her junior season after tearing the ACL in her left knee during a tournament in Richmond on Aug. 30, 2014.
While injured, Donaldson, a 6-foot outside hitter, continued to spend time around the Saxons, cheering her teammates from the bench. After losing to Fairfax in the Conference 6 semifinals, the Saxons won a regional match against Chantilly, but ended their season with a 3-0 loss to South County in the quarterfinals.
Donaldson wasn't down for long. She "worked really hard at rehab" and was cleared to play just four months after her injury.
She returned to practice with her Metro American Volleyball Club team, but took things slowly for an additional two months.
Now, nearly one year after suffering her season-ending ACL tear, Donaldson is back practicing with Langley, preparing for the 2015 high school season. Donaldson said she saw limited playing time with her club team and is happy to be back in a starting role.
"It feels awesome," she said. "I was really excited for last year and it's kind of a bummer that it turned out like that because [in the] preseason we played really well and we were looking to be a good team. Of course, we didn't do as well as we wish we had last year, but this year should be a really good year and I'm excited because it's my senior year."
Donaldson is part of an experienced Langley team that has aspirations of playing at VCU's Siegel Center in November.
"We definitely want to make a run at states," said rising sophomore Elena Shklyar, who started at setter as a freshman. "That's our goal. We want to play well together and have fun, of course, and we want to win and get some titles."
The return of Donaldson, who is committed to Lehigh University, is a major reason for optimism.
"She looks great," head coach Susan Shifflett said. "She's hitting the ball as hard as she ever was. ... To see that power back on our court is very exciting. The morale in general with the girls is huge because she's back."
Donaldson said watching from the bench while injured allowed her to "appreciate the game from a different perspective."
"Jess is basically the heart and soul of the team," Shklyar said. "Even last year when she was on the bench, people would look to her when we were in trouble. We would just look to her to cheer everyone up. Now, having her on the court is going to make it so much better because you can always rely on her."
Donaldson is one of several weapons to which Shklyar can set the ball. Shifflett described the sophomore setter as "smooth and athletic."
Rising senior outside hitter Kristian Stanford is the only Saxon other than Donaldson to start for Langley's 2013 state championship team.
"She is our other bookend for the outsides," Shifflett said. "Last year, she had problems with consistency. We'll wait to see, but this year, what we've seen in our preseason is she has closed that gap. I expect really big things from her."
Rising senior middle blocker Katie Sissler and rising sophomore middle blocker Allison Franke are also threats at the net.
Rising junior Sarah Maebius is the team's libero.
Langley will open the season on the road against Broad Run at 7 p.m. on Sept. 1. The Saxons' first home game is Sept. 9 against Stone Bridge.
"We need to be a factor," Shifflett said, "and I think we're going to be a factor at all levels."