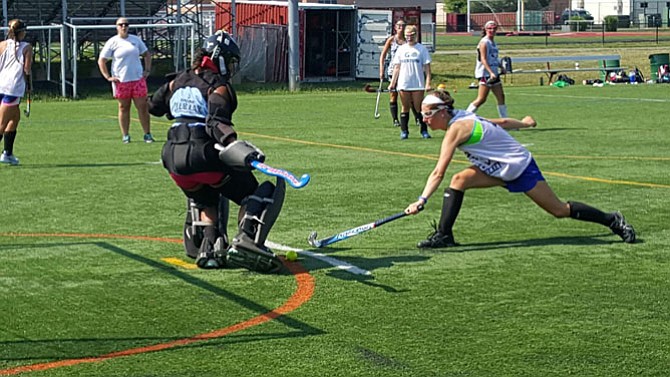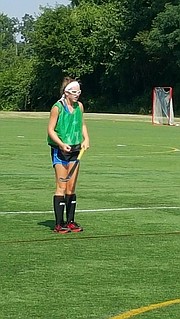 Herndon's Sammy Stone is a talented field hockey player who plans toone day compete at the collegiate level. During the 2014 season, she totaled 12 goals and nine assists, according to stats from the Washington Post, helping the Hornets finish with a 19-3 record.
While Stone was an offensive threat for the best Herndon field hockey team in more than three decades, her accomplishments were often overshadowed by those of her older sister.
TAYLOR STONE wrapped up her high school career with a monster senior season. She scored 23 goals, tallied 20 assists and piled up the accolades. She received 6A North region Player of the Year and VHSL first-team all-state honors, and was named All-Met Player of the Year by the Washington Post. Stone is now a freshman on the University of Louisville field hockey team.
"It's hard not to feel a little bit of pressure," Sammy Stone said when asked about having a successful older sibling. "You always hear people talk about your sister. I'm referred to as Taylor Stone's little sister. ... I can't live in her shadow forever."
Now a rising junior, Sammy Stone has a chance to leave her own mark on the Herndon program. But thanks to the efforts of Taylor Stone and fellow 2015 graduates Sofia Palacios, Jamie Wright and Alexis Duke, life won't be easy for the younger Stone and her Hornet teammates, who enter the 2015 season with targets on their backs.
Last season, Herndon won its first conference/district title since 1979, beating defending state champion Westfield 3-2 in the Conference 5 championship game. Taylor Stone scored all three of the Hornets' goals. Herndon would fall one victory shy of qualifying for the state tournament, losing to eventual region champion Fairfax 2-1 in the 6A North semifinals.
Palacios tallied 24 goals and 30 assists in 2014, earned first-team all-region and all­state honors, and now plays for the University of Pennsylvania. Duke was a second-team all-state selection, and Wright now plays for Dickinson College.
"Everybody's really eager to step up," Sammy Stone said, "and fill the shoes of [last year's seniors]."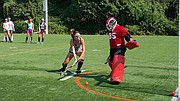 The cupboard isn't bare at Herndon, but the returning Hornets will have to adapt to new responsibilities. Along with Sammy Stone, who could play forward or midfield, senior midfielder Seara Mainor and senior defender Kaley Selner will be looked to for leadership. Mainor and Selner were named to the all-tournament team last year for their performances during the Hornets' three-game run to the conference title.
"It's just finding your role on the team," Selner said. "Taylor and Sofia and Jamie and all of them were amazing and we found our role with them and supporting them."
Rising junior midfielder/defender Grace Caron, rising junior defender Meghan Graby and rising senior goalkeeper Jessica Corum are also key returners.
"There are certainly a lot of opportunities for other kids and they know that," fourth-year Herndon head coach Mary Miller said. "Not that they weren't trying hard last year [but] ... now it's kind of like 'I've got to try to play, not for me, but to increase the level for everybody.'"
HERNDON will open the season on the road against Langley at 7:30 p.m. on Monday, Aug. 24. The Hornets' first home game is Aug. 27 against T.C. Williams.
The Hornets will host the Herndon Invitational on Sept. 11-12.
Herndon started the 2014 season with 13 straight wins, recorded several lopsided victories and claimed the Conference 5 championship. Regardless of how much talent the team lost to graduation, the Hornets figure to have their opponents' attention in 2015.
"To me, [the conference title] should give us confidence," Miller said, "and it's also going to make people want to beat us a little bit more. ... [I]t also gives us a little bit more to work for to try to keep that tradition."