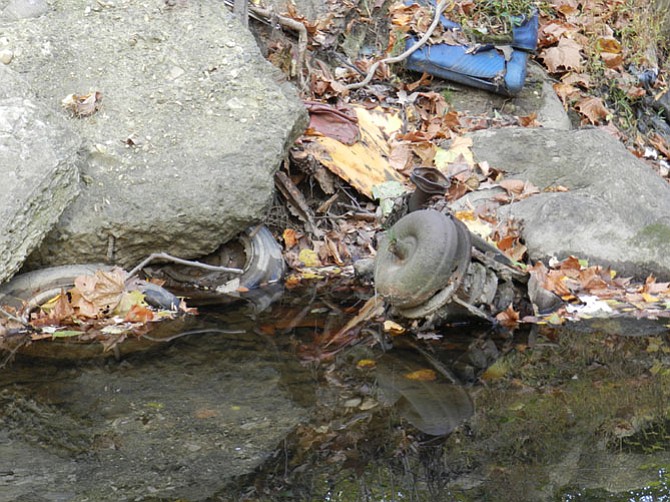 Twenty days. That's how long AAAACO Auto Parts in Lorton has to respond to a letter sent by the Department of Environmental Quality stating they may be in violation of solid waste management regulations.
Local residents and environmental activists such as Joe Chudzik of Mason Neck have continued to voice concerns that discarded tires, automotive parts and even entire cars located in and around Giles Run Creek are the responsibility of AAAACO.
The auto parts store has worked with Fairfax County Office of the Fire Marshal to remove roughly 4,000 tires, however Chudzik and others maintain there's still much more waste with which to be dealt.
Chudzik recently met with a representative from the Department of Environmental Quality and Del. Dave Albo (R-42) also sent a letter of concern to the Department.
Though the Department had previously visited the site last year, the steady stream of complaints caused them to follow-up in July.
"Any time we get concerns from citizens, anyone who's interested, we try to address those concerns," said Bill Hayden with the Department of Environmental Quality.
The follow-up confirmed there is still work to be done for the property owner to be in compliance, which prompted the warning letter. AAAACO has 20 days from the date of the letter -- Aug. 12 -- to respond with how the business intends to resolve the issue.
"The way we approach it is work out a way for the regulations to be met," Hayden said, "and every case is different."
At this point, there's no prescribed amount of time for the waste to be cleaned up.
"We're mostly focused to get them to take steps for a clean up," said Hayden. "We haven't made a final determination under the law."