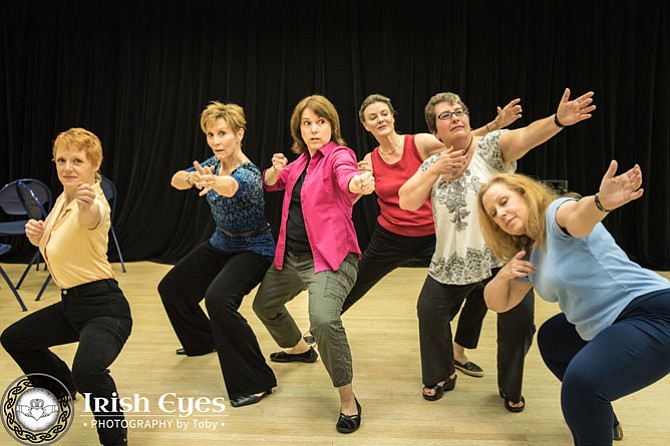 Where and When
McLean Community Players present "Calendar Girls" at Alden Theatre, McLean Community Center, 1234 Ingleside Ave., McLean.
Performances on weekends Sept. 18- Oct. 3. Friday and Saturdays at 8 p.m. and Sunday matinees, Sept. 20 and 27 at 2 p.m.
Tickets are $18 to $20. For tickets, call 703-790-9223 or visit http://www.McLean...">www.McLeanPlayers....
Note: Show includes some partial nudity. Suitable for ages 17 and older.
"We are a show about a sisterhood of women in a bonded group; thinking and doing what others didn't expect," said Diane Sams, co-producer and a featured actor in the upcoming McLean Community Players production of Tim Firth's "Calendar Girls."
"Calendar Girls" is based on a true story and what became one of the most popular plays in British theater history. The production rights to produce the show only now became available to U.S. community theater groups. The McLean Community Players (MCP) is the first in this area to produce the show.

Set in a small English village, "Calendar Girls" is about two long-time friends, Annie and Chris, who are members of a local women's volunteer organization. After Annie's husband passes away, Chris and Annie decide to raise money for the local hospital by producing a calendar with shots of their organization's members engaged in local and very traditional activities such as knitting, baking, and gardening. Oh, with one unique photo fact; the women will be nude, or close to it.
"It is always a challenge and a privilege to do the first area production of a play. I am fortunate to have such a talented, dedicated and brave cast and production staff," said Robert Sams, veteran MCP director.
In an interview with the ensemble all were clearly comfortable with what is expected of them. As Diane Sams put it, with nods and warm laughter from everyone around the table, our characters are "ordinary women who come together to do and accomplish something extraordinary. As actors we are performing a very positive depiction of women even as we are a sisterhood of women with the bra off."
For newcomer Sam David (Annie), "Calendar Girls" depicts how "a group of friends come together on a journey and support each other; that is the true heart at the center of the play and each character." Cast members Shayne Gardner, Jennifer Greene, Anne Hilleary, Jennifer Levy, Kathryn Johnson, Elizabeth Leader, Carole Preston, Liz Weber each described the play in their own way as "touching and very well written; showing what people will do to support each other and to benefit others".

There were agreeing smiles from the cast when Hilleary indicated the audience "will be able to identify with someone of the characters or situations" and what they accomplished. A journey full of comedy and determination after a major personal loss.