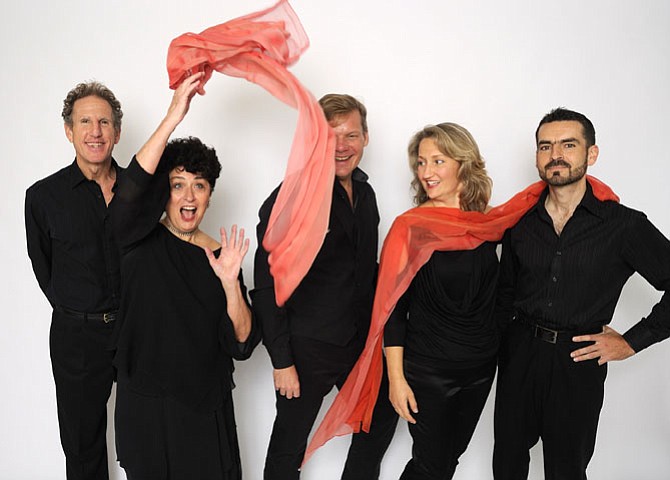 Where and When
QuinTango performs "Tango Along the Silk Road" at CenterStage, Reston Community Center, Hunters Woods Village Center, 2310 Colts Neck Road, Reston.
Performance: Sunday, Sept. 20 at 3 p.m.
Tickets $15-$20.
Call 703-476-4500 or visit: http://www.reston...">www.restoncommuni...
Just the name "Silk Road" conjures up travel to exotic locales and remarkable cultures. Reston's CenterStage (RCC) will be providing an opportunity to travel the Silk Road with Northern Virginia's own QuinTango as the group brings a remarkable performance to audience's ears and eyes.
"QuinTango is a great match for Reston because they are world class musicians with electric personalities and fascinating programming ideas," said Paul Michnewicz, RCC arts and events director.
From its first note, QuinTango wants the CenterStage patrons to be "caught up in the drama, the emotional commitment, the intimacy of tango's diverse repertoire," said Joan Singer, QuinTango founder. The group is composed of five "musicians playing their hearts out for each other and for the audience."
But, what's the connection with commerce along the Silk Road and the tango? At the performance the audience will even learn that the tango influenced the music scene of the Silk Road and Middle East. "Many things besides silk travel on the Silk Road and these things travel in both directions," said Singer, Quin Tango founder. "We have some fascinating stories" and even a Turkish tango.
"Tango is a musical narrative – which we expand upon with our own stories. When you leave a QuinTango concert, you know a lot more than when you arrived!" added Singer. "We want to open windows, make connections and show how the world is knitted together in ways you may never have imagined."
When asked why the tango and its intimacy endure, Singer noted that "it has the power to engage performers and audiences completely. Tango is an immigrant art form – it tells universal stories. The saying goes that you don't choose tango; it chooses you…Tango is addictive. And so it endures."
"For me tango is a perfect vehicle for communicating – it can be something humorous, flirtatious, sensual, heart-breaking; tango has many stories. Finding the heart of each tango and singing its song so that the audience feels what I feel – that's the fun part for me," said Singer.
Two guest artists will join QuinTango at the Reston CenterStage. One will be Argentine bandoneonist Emmanuel Trifilio. The bandoneon is a type of concertina that is a signature tango instrument that can have a soulful, melancholy voice. The second guest will be world music percussionist Tom Teasley, a multi-Helen Hayes award recipient.