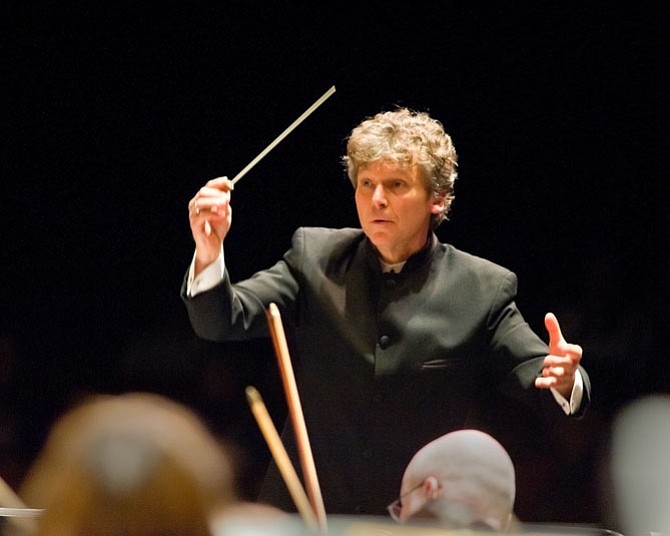 Plenty of reasons to celebrate the Fairfax Symphony Orchestra (FSO) about to begin its 59th season as Fairfax County's flagship orchestra. This year, under the baton of music director Christopher Zimmerman, the FSO will celebrate the genius of Beethoven's masterpieces while featuring the coming generation of virtuoso classical pianists.
Why feature Beethoven piano concertos? "I have designed most of our past seasons with some kind of binding thread, be it focusing on a composer, or a topic," said Zimmerman. "This year I thought both a composer and an instrumental medium would provide the focus for an interesting musical exploration as well as be a strong attraction in themselves.

"The audience will hear, and be fascinated by, how Beethoven's compositional style changes and evolves from concerto to concerto," said Zimmerman. "I hope also that their enjoyment of these works will be enhanced by the fact that we will be performing other orchestral works of his alongside these concertos, and also those of his immediate predecessor, Mozart, and successor, Brahms."
Where and When
Fairfax Symphony Orchestra performs at the Center for the Arts, George Mason University, 4400 University Drive, Fairfax. Season opening performance Beethoven: "Coriolanus" Overture, Beethoven: Piano Concerto No.5 "Emperor" with Alon Goldstein, piano and Beethoven: Symphony No. 5. Performance on Saturday, Sept. 19 at 8 p.m. Tickets: $34-$58. Ticket information call 703-563-1990 or visit http://www.fairfa...">www.fairfaxsympho...
The pianists will include Alon Goldstein, already known to FSO audiences. He will be featured in the season opener on Sept. 19 at the Center for the Arts, George Mason University. Awadagin Pratt, performing later in the season, "has developed an extremely distinguished career and is a major figure, particularly in this country." Sean Chen, George Li and Andrew Tysons each has had "a spectacular kick-off, all having won significant prizes at the world's most prestigious piano competitions," Zimmerman pointed-out.
Each artist will provide audiences "with their tremendous gifts and convey to the audience their own fresh perspective."
As for celebrating the 59th season, Zimmerman acknowledged that "it is a major accomplishment". When asked about the upcoming, anticipated 60th season, now just a year away, it "is of course a milestone which we will hold as something special, but I will give nothing away at this point."
"In the coming years the orchestra will continue to perform at the level that the audience expects and is proud of and excited about. We will continue to collaborate with great instrumentalists and artists of the highest stature, and we will continue to present programs of the greatest and most beautiful (in all aspects of that term) music in combinations that hopefully will delight, stimulate and fulfill the audience in the way that this great legacy of orchestral music--past and present—can," said Zimmerman.