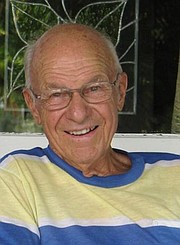 William "Bill" Schumacher of Annapolis died on July 27, 2015 from complications suffered after a fall. He was 85. He is survived by his daughters, Linda Diane Schumacher (Mark Sides), Carol Schumacher Broome (John), and Debra Schumacher Mahoney (Christopher); his step-daughters, Cynda Green and Kinee Hanson (Jeff Rainsford); his grandchildren, Christopher, Andrew, Stephanie, Aimee, London, Chase, Claire, and Jillian, and his step-granddaughter, Jessica; his great-grandchildren, Charlee and Milo; his cousin and lifelong dearest friend, Tom Worthington; and his nieces, nephews, and extended family.
Bill was born in Annapolis in 1929 to Theodore and Elizabeth Thomas Schumacher, and together with his siblings, Tom, "Ted," and "Bette," spent his childhood moving about the U.S. as the son of a Navy Captain. The family would travel back to Annapolis each summer to Arundel on the Bay, where the extended family gathered at the summer home of their grandfather, William H. Thomas, for cherished days of swimming, boating, and crabbing. Bill's passion for the Chesapeake began in these early years.
His family moved to Chevy Chase, where Bill graduated from Bethesda-Chevy Chase High School and earned a Business Associates degree from Montgomery College. In 1949, at the age of 20, he co-founded Mitch and Bill's Esso (Exxon) service station located at the crossroads in Potomac, together with his partner and longtime friend Clyde E. "Mitch" Mitchell, a business they co-owned for more than 30 years and one that remains an institution in the Potomac community to this day. In 1950, Bill married Virginia Lee Bangs, with whom he raised three daughters in Bethesda. They built a summer home on the South River in Annapolis in 1967 where Bill continued his lifelong bond with the Chesapeake. After his divorce in 1972, Bill married Ruth Marie Culbertson (nee Peterson), and the two remained in Annapolis where they spent many happy years living on the water. He retired in 1982.
Bill knew every river and creek on the Chesapeake and had traveled most of them by boat. He was an avid power boater, and as members of the Annapolis Sail and Power Squadron, Bill and Ruth enjoyed many overnight trips aboard their boat, the "2Schus II." Ruth died in 2011.
Bill could fix anything, loved cars and all things mechanical, and caught and steamed the best-tasting crabs on the Bay. He also enjoyed years of morning walks with the Hillsmere Shores walking group. Above all, Bill loved spending long, beautiful days by the Bay with his family and friends, among whom he will be greatly missed and always loved. A Celebration of Life is planned for mid-September. In lieu of flowers, donations may be made to the Chesapeake Bay Foundation at www.cbf.org.