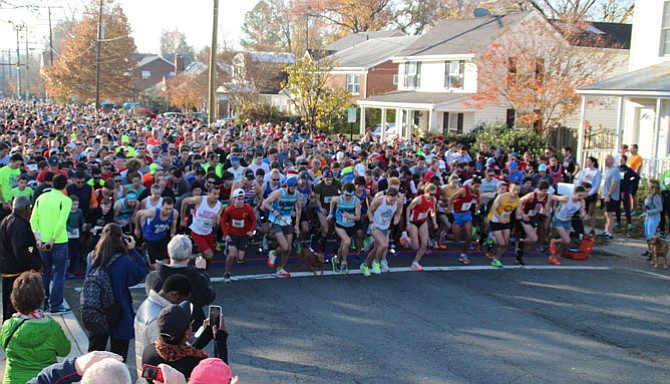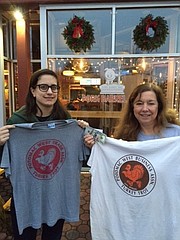 Course records were set in both the male and female divisions as more than 5,700 runners took to the streets of Del Ray in the 40th running of the Alexandria Turkey Trot.
"We had a record number of runners register this year," said Pat Miller of the Del Ray Business Association. "It was a great way to celebrate our 40th anniversary."
Under sunny skies, 21-year-old Habtamu Arga set a course record for men of 23 minutes and 31 seconds in the 5-mile race while Susanna Sullivan, 25, defended her 2014 title with a new women's record time of 27:11.
The race serves a benefit for the ALIVE! food bank, which received canned goods and monetary donations totaling $5,000.
"It was such an amazing morning," Miller said. "The weather was beautiful — so crisp and clear and everyone was in great spirits."
Numerous cash prizes were awarded by DRBA, which founded the race 40 years ago when the organization was still known as the Potomac West Trade Association. Among those awards was oldest T-shirt contest winner Mallory Lawhorne, who showed up with a shirt from the 1988 race that was a gift from her father, Sheriff Dana Lawhorne.
DRBA board member Gayle Reuter presented Lawhorne with $100 cash, which Lawhorne said would be donated to the Animal Welfare League's Adopt it Forward program.
Other prizes were donated by Pork Barrel Barbecue, Sweet Fire Donna's, Royce Flowers and Bistro Du Soleil.
Among the top finishers was crowd favorite and masters runner Michael Wardian, 41, who along with his dog Rosie defended his title in the Doggie division with a time of 28:09, good enough for 17th place overall.
City Council was represented by past and present members Justin Wilson (33:30), Rob Krupicka (33:45), and Frank Fannon (49:33). ACT executive director John Porter finished in 1:10:22 while his son and Commonwealth's Attorney Bryan Porter clocked in at 35:50. Marathon-a-month runner Brooke Curran came in at 42:43 while Matias Palavecino, 34, won the stroller division with a time of 28:29.
For complete race results, visit www.alexandriaturkeytrot.com.