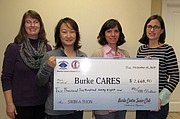 Continuing an annual tradition dating back to the early 2000s, representatives from the Burke Centre Penguins and Stingers summer swim teams presented Burke CARES a check for $2,668.50 on Nov. 12. The two teams raised money through Swim-A-Thon fundraisers held during their season earlier this year.
The Penguins team began donating to cystic fibrosis research in 2002 and 2003, then supported Katrina Nelson in 2003 after she was diagnosed with cancer. Funds went to the charitable organization CaringBridge until the mid-2000s and then to the Leukemia and Lymphoma Society and Burke CARES.
The latter is a nonprofit community aid organization serving Burke residents and others living around the immediate Burke area.
Over the years, the teams have raised and donated more than $60,000.
"Thank you to the many enthusiastic swimmers who swam hundreds of laps at the Swim-A-Thon to raise money for us," Burke CARES Director Linda Cottrell said in a statement. "And thank you to an army of moms, dads and other community members who volunteered countless hours and donated valuable items for auction contributing to another very successful fundraising year. Burke CARES would not be able to provide these services to our community with the generous donations from the Burke Center Swim Club."