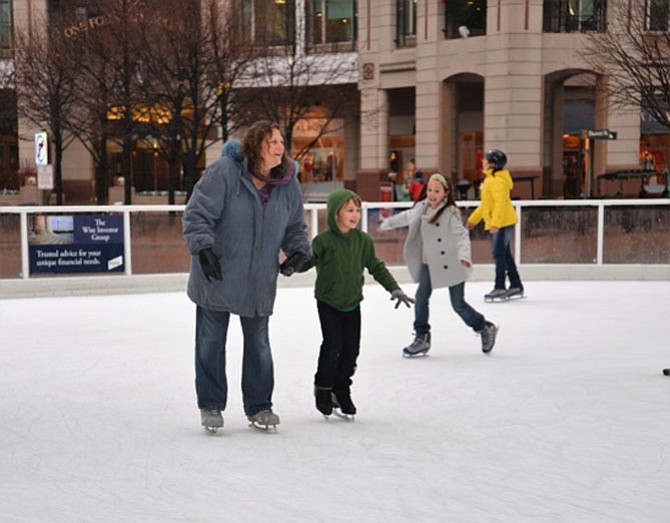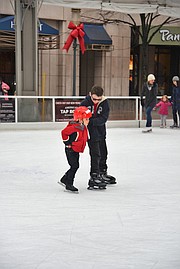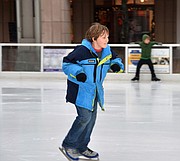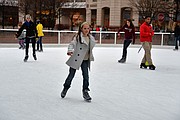 A little drizzle didn't stop those ready to round out the Thanksgiving Holiday weekend with some exercise on the ice at the Pavilion at Reston Town Center. Peter Lindquist of Atlanta was ready to "take a break from eating and shopping! I need to get all the kinks out before the long drive home tomorrow." Like a number of the skaters, Lindquist was in the area visiting family for the holidays. "This is great. The kids love it. Outdoor ice skating is not something we can do in Atlanta. You folks are lucky."
Locals like the Nodine family were also happy to put aside the turkey leftovers for a while and take a few spins. Dad Matthew played observer, while Mom Victoria looked pretty accomplished and daughters Faith and McKenna gave it their all, obviously gaining confidence with each turn around the rink.
The Ice Rink at Reston Town Center is open seven days a week, now until March. Starting at 11 a.m. each day, Sunday–Tuesday they are open until 7 p.m., Wednesday and Thursday until 10 p.m., and Friday and Saturday until 11 p.m.
In between those opening hours there are special events taking place, with something for everyone in the family. The Saturday Cartoon Skate is a popular happening with the younger crowd. Costumed cartoon characters share the ice and interact with the skaters from 11 a.m.–1 p.m. Older siblings will enjoy the Friday night "Rock and Skate" from 8–10 p.m., and on Thursday nights, from 6-9 p.m., college students get $2 off the regular $10 general adult admission with their valid student identification. If you and/or your family are avid skaters, or just ready to get into the sport, season and family passes are probably your best bet.
No skates buried anywhere in your basement storage room? No problem. There are some 500 pairs available for rental in sizes 8 toddler to Men's 13, in both figure skating and hockey styles. A bit shaky on those blades? Still no problem. Group skating lessons are offered to enthusiasts of all skill levels from rail-clinging beginners to those who've got the twirls and backwards one-legged swan moves already under control. The rink can also be a creative alternative for birthday parties, corporate outings and group skates. Packages are available for all of those events.
In keeping with the "season of giving" Reston Town Center Ice Skate even offers "Edu-Skate" opportunities, ways to fundraise and ways to support local schools. Your warm heart will serve you well on that cold ice.
1818 Discovery Street in Reston, alongside the rink, is the place to book, get more information, and rent those skates. Call the Skate Hotline at 703-709-6300. More information is available on the Reston Town Center website at www.restontowncenter.com, including a link to the "learn to skate" site. Enjoy the season!