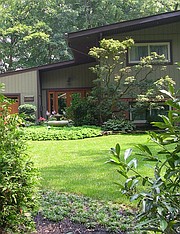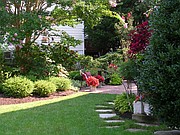 Each year, the City of Fairfax's Community Appearance Committee honors local homeowners who have particularly attractive yards. This year's three winners of Residential Appearance Awards are Colin Harbison and Stephanie Werhane, Gary and Lorraine Kincheloe, and Edward and Sonja Cummings.
Committee Chairman Kirk Holley presented their awards during a recent meeting of the Fairfax City Council. Each received a certificate, plus a yard sign saying, "Winner, 2015 City of Fairfax Residential Appearance Award."
The properties were judged on four key criteria: 1. Landscape design quality – Balance, seasonal interest and appropriate for the home and neighborhood; 2. Residence and building quality – Craftsmanship, materials and complementary to setting; 3. Maintenance of landscape and building – How well they are kept up; 4. Sense of place – Creating a unique, special character.
And while the committee accepts nominations from the community, the properties are professionally judged. According to Holley, "We had more than 30 unique nominations, which is more than we've had in the past."
The Kincheloes live at 10111 Forest Ave., and the judges noted that "this well-kept, stately home has understated plantings that make an attractive property blend well with its community and woodland surroundings. A very inviting semi-formal entrance is enhanced by a water feature and the use of potted, annual plantings. There are several appropriate native and shade-tolerant plantings to integrate the property with the surroundings."
Living at 10708 Simpson Mews Lane are the Cummings. "This stately home visually anchors a corner lot in Chancery Park," wrote the judges. "A peek into the back from the street shows a welcoming patio garden. Annuals and perennials add color to the site architecture. Year-round greenery frames the entrance, and summer-blooming plants attract pollinators."
Harbison and Werhane live at 10607 Elmont Court, and the judges appreciated their yard's many "naturalized, native plant materials and an uncut lawn area giving it a woodland charm." Furthermore, they wrote, "This property reminds us of what parts of Fairfax must have been like before the Baby Boom generation was born. In a corner of the city, at the end of the street, this unique 'cottage-feel' home is a hidden gem. Mature landscape plantings and the Arts and Crafts house details all add to the charm. Well-kept, yet obviously lived in, we really like this home."
"The last couple of years, the judges have been asked to broaden their opinions about high-quality, residential landscapes," added Holley. "As a result, some of the woodsier properties in the City have been nominated and selected."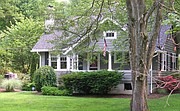 The Residential Appearance Awards are sponsored by Twins ACE Hardware, and store co-owner Jeff Smith participated in the awards presentation, along with Fairfax Mayor Scott Silverthorne and members of the City Council. And besides their other honors, the winning homeowners also received $75 gift cards from Twins.
"On behalf of my brother Craig and all our staff at Twins ACE Hardware, I wish to congratulate the winners of this year's Residential Appearance Awards," said Smith. "Everyone at Twins Ace strives to have everything you need to make your house a home, but that is only part of it. Your inspiration, motivation and dedication are all reflections of the pride that you take in your community and in the City of Fairfax."