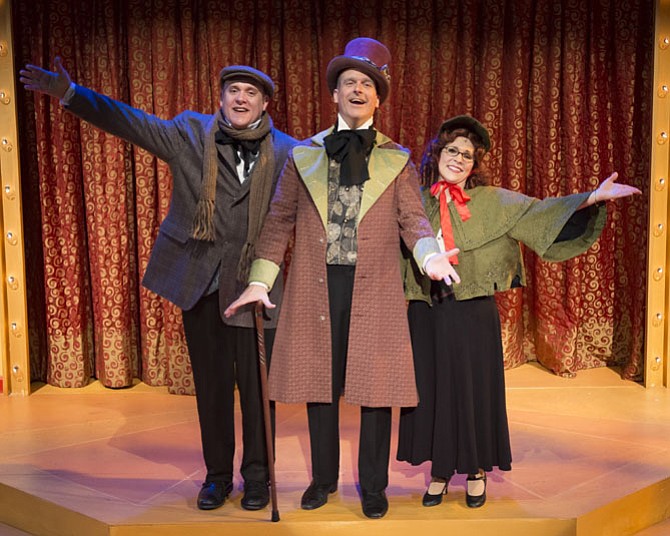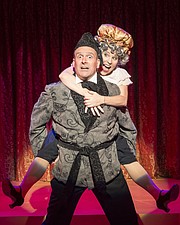 Six years ago MetroStage decided that we needed to establish a holiday tradition. "A Christmas Carol," a mainstay at Ford's Theatre, and "The Nutcracker" with the Joffrey, American Ballet Theatre and the Washington Ballet were already booked. And now "Black Nativity" makes a regular appearance at Theatre Alliance. Looking back "A Broadway Christmas Carol" was almost an inevitable choice. It was originally developed at Round House Theatre in Silver Spring and ran for seven sold-out seasons until 2004. A small cast, a musical featuring Broadway show tunes, a classic story with a twist, and ultimately a very funny play with a heart and a soul and a lot of silliness and madcap antics seemed to be the perfect way for this theatre to usher in the holidays. Our productions of "Musical of Musicals (The Musical!)" had been a resounding success on our stage, and it too used familiar Broadway show tunes to spoof the most famous of Broadway composers and had been a huge hit with our audiences.
In its sixth season at MetroStage "A Broadway Christmas Carol" is definitely a certifiable, indisputable tradition and hit show. Patrons return every year introducing more friends and family to this alternative holiday entertainment. Adults love identifying the 35 Broadway shows represented in the score with a some new material included each season (there is a cheat sheet in the lobby for after the show in case you couldn't identify a song or two) and children can enjoy it on a completely different level, given the fast-paced rollicking fun and lightning fast costume/character changes. Familiarity with the material brings added delight as evidenced from our patrons who return every year in anticipation of the same silliness, the remarkably talented cast (and musician), and a unique theatre experience that ushers in the holiday season with charm, exuberance and sharply clever lyrics.
This is a holiday entertainment that is wickedly funny and captures the heightened spirit of the holidays while at the same time telling a story with a very serious message of love, kindness, and generosity among family and friends, and an old miser's ultimate redemption. And it is told (and sung) by some of the best vocal talent in the area and played by one of the best pianists in the business. The combination of comedy and storytelling is performed by exceptionally talented actors with incredible vocal ranges, comic timing, and exceptional vocal prowess and physical dexterity. A little something new is added to the script every year, and this year is no exception.
If you know one Broadway tune or hundreds, your spirits will soar, and you will be primed and ready to take on the holidays after spending a few hours at MetroStage with the Crachits, Fezziwigs, Belle, Fred, Marley, and the rest of the Dickens' gang.