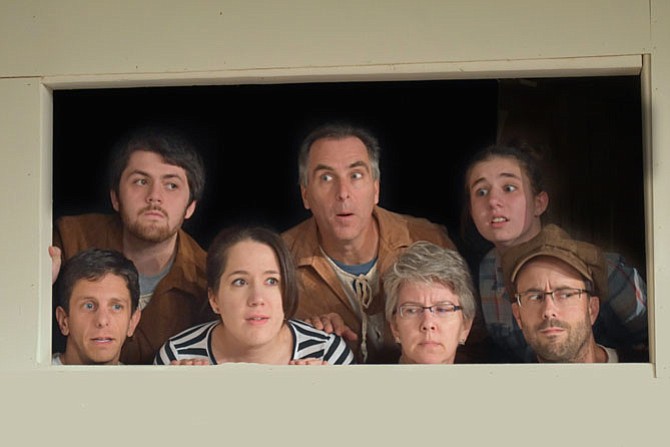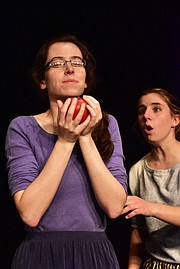 Where and When
Providence Players presents "Snow White and the Family Dwarf" at the James Lee Community Center Theater, 2855 Annandale Road, Falls Church.
Performances: Dec. 11-20. Thursday, Friday & Saturday 7:30 p.m. with Saturday and Sunday matinees on Dec. 12, 13, 19 and 20 at 2 p.m.
Tickets $17-20.
Call 703-425-6782 or visit: http://www.provid...">www.providencepla....
Note: Half of all net proceeds from this production will be donated to Young Hearts Foundation that strives to improve the lives of young people affected by long-term illness.
There are cheeky dialogue, comic turns and magical moments intended to treat everyone with the utmost respect and love in the Providence Players upcoming production of "Snow White and the Family Dwarf." The show is about a large, regular-sized family with the last name "Dwarf." The production presents a singular take on a deeply-rooted old tale about the foolishness of an aging Queen's obsession with physical beauty and a shallow Prince's search for a perfect bride.

The show depicts how beauty means caring for one another. "No one is perfect and that's what makes us all human and even more beautiful," said Barbara Whitehead, director of the Providence Players upcoming production, "Snow White and the Family Dwarf" written by Greg Palmer. "It's a good thing to remind us all especially during the holidays."
"I thought it would be a delightful holiday show. We wanted to offer a family theatrical event that wasn't necessarily a holiday or Christmas themed show," said Whitehead. "The family is the center of happiness in this story. Whether it's your birth family, the family you choose or the family that chooses you, you can find happiness."
"When I read the script I loved the reshaping of the classic "Snow White" story. The script takes a story we all know and tells it in a new, fresh way that entertains and keeps you on your toes," said Charlene Sloan who plays the Queen.
For Christian Faulkner, who plays a Magic Mirror, "the script is perfectly charming -- I really enjoy clever retellings of classic tales and felt that this 'Snow White' will delight audiences young and old."
As for Rachel Yeager who is Snow White: "I jumped at the opportunity to audition for the show…I absolutely love children's theater…and, let's be honest - what girl wouldn't get excited at the chance to play a Disney princess?"
A tidbit of the comic teasing and banter surrounds Snow White's name. After all if you are named after the weather why not be called "Partly Cloudy" or "Scattered Showers" or "Morning Fog" or perhaps "Afternoon Clearing"! Or how about "Gale Storm?"

"Snow White and the Family Dwarf" is for all ages. "If you want to attend a holiday event with no bad language, lots of silliness, cool costumes, magic, good and mean characters, a good cause to support and not break the bank, this is the show," added Whitehead.