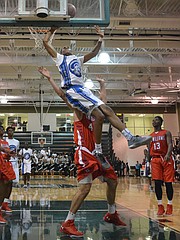 After the Wakefield boys' basketball team defeated T.C. Williams, 74-56, on Saturday night in Arlington, improving the Warriors' record to 3-0, Wakefield senior Deng Nhial shared his thoughts about the team's early-season performance.
"We had a slow start to the season, but we've started to pick it back up now," said Nhial, who is in his third varsity season. "We've started listening to our coach, we've started getting into a better flow ... we've started picking it up on defense."
Since when does being undefeated constitute a slow start?
"Deng can really say that. He's the one, if anybody can say it, because he's been here the longest," head coach Tony Bentley said. "He knows what Wakefield basketball is all about — and no we have not played well. ... Tonight, we saw it starting to come together."
After losing several key players to graduation, including first-team all-state forward Dominique Tham, Nhial and junior guard Alan Treakle, who transferred from West Potomac as a sophomore, are the only returning Warriors with significant experience. The rest of Wakefield's primary contributors this season will be some combination of transfers and athletes who lack varsity experience as the Warriors attempt to continue the program's streak of three consecutive district/conference championships.
Wakefield is now 4-0, including a 55-46 victory over Yorktown on Dec. 1, a 96-88 triple-overtime win against Tuscarora on Dec. 2 and an 83-66 victory over Eastern on Tuesday, but the Warriors have work to do in terms of jelling on the court.
Wakefield had multiple players transfer in this season, including senior guard Jonathan Adams (Woodbridge), junior guard Halil Parks (W-L), senior guard Eric Martin (Edison), sophomore forward Mahmoud El Taher (Yorktown) and sophomore forward A'mari Cooper (South Carolina).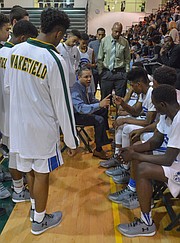 "When you get one [transfer] — we had Alan last year — that's OK, you can manage that," Bentley said. "But when you start getting a few of them ... each kid is coming from a different program that teaches different things. Not that it was wrong, it's just now it has to be the way we want it to be done. It's been tough and I guess that's why Deng has felt like it hasn't just clicked right away, because we're starting to get to know each other, not just on the court, but off the court as well."
Adams, who led Wakefield with 19 points on Saturday, and finished with 29 points and six rebounds on Tuesday, said the Warriors are bonding.
"We've jelled very well," Adams said after the win over TC. "We hang out almost every day. Weekends, we spend time together — hours. We just try to build that chemistry so we can get to the state championship. ... If you have chemistry off the court, it will be so much easier on the court."
Adams, who started for Woodbridge last season, said it has been a challenge adjusting to his new role.
"It was a little challenging, me being a starter on the Woodbridge team, me having to be vocal," Adams said, "and then coming here and having to lower my ... status."
Nhial and Treakle are team captains and looked to for leadership.
"It's been a challenge, especially becoming a vocal leader on the court and getting our players going when we're starting sluggish," Treakle said. "Also, being that main man on the court, and telling everybody what to do, where to go, being an energizer-man."
On Saturday, Wakefield never trailed against T.C. Williams, taking the lead for good when an Adams bucket gave the Warriors a 6-4 advantage with 3:30 remaining in the first quarter. Wakefield led 19-13 at the end of the opening quarter and 36-27 at halftime.
The Warriors built their largest lead of the night when a bucket by Treakle gave Wakefield a 63-39 advantage early in the fourth quarter.
Treakle finished with 18 points and Parks added 11.
Wakefield will host Anacostia at 7 p.m. on Friday, Dec. 11.
Bentley said this year's team motto is "get with the program."
"They have to get with the program because we've been successful," Bentley said. "All your accolades will come if you just play team ball."