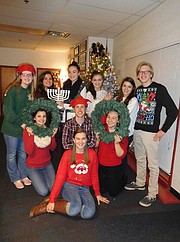 Each year, a holiday tradition at Westfield High is the "Ho-Ho Holiday show." It's geared for area children and student-directed by seniors.
More than 75 theater students are participating. The curtain rises Friday, Dec. 18, at 7 p.m., and Saturday, Dec. 19, at 2 p.m. Tickets are $5 at the door.
On tap will be six, short plays: "'Twas the Night before Christmas," "A Very Potter Hanukkah," "The Grinch," "A Charlie Brown Christmas," "A Year without Santa Claus" and "Frosty the Snowman."
'The Grinch'
Directing "The Grinch" are Jackson Armstrong, Keegan Garant, Alexa Tucker and Zach Szmerekovsky. It has a cast of 10, including John Coughlin as the narrator and Ian Balderston as the Grinch. Wade Parker plays Max the dog; Kennedy Giroux, Cindy Lou Who; Emma Wolfe, Mama Who; and Marty Bernier, Papa Who.
"Things are going really well; the cast is attentive and easy to work with," said Tucker. "Ian hasn't seen 'The Grinch' before, so he's taking it in a different direction. But it's still really funny and it works. And since John also does impressions, he may narrate in a voice other than his own."
The directors also have experience with this show. "In my freshman year, I played a Who, and I narrated 'The Grinch' as a sophomore," said Tucker. "And Zach and Keegan were Grinches in previous years, so they have a lot to add to it."
As a director, she said, "It's cool to take the show in the direction you want. And you have to set an example for the cast by staying focused and on track. I also liked watching auditions and seeing how everyone's personality fit into their characters."
Tucker said the audience will love this play because "'The Grinch' is a classic, and the main character always has a big stage presence, funny movements and lines everyone will appreciate. And there's a lot of physical humor, especially between the Grinch and Max. Kids will also enjoy the Dr. Seuss rhymes in which we tell the story."
''Twas the Night before Christmas'
Featuring a cast of about 20, "'Twas the Night before Christmas" is directed by Sarah Damers, Shaina Greenberg and Connor Rudy. "It's mostly a dance show, and the cast members are great dancers and fun to work with," said Damers. "It's ballet and jazz dancing with narration. The dancing illustrates the story and the narrators read the poem."
All three directors danced in this show, the past three years; but this time, Damers and Greenberg will narrate. As for directing, Damers said it's nice to "pass on the fun experience of being in 'Ho-Ho' to other students. It's mostly teaching them the dance."
She said children will really like this show "because of the pretty music and dancing. Our music is by the Trans-Siberian Orchestra and is very Christmas-y and exciting. And this is different from all the other shows because it's music and dance, rather than a one-act play, so I think kids will enjoy it. We have fairies, including the Sugar Plum Fairy, bat rats and reindeer. And it combines some of 'The Nutcracker' characters into the 'Twas the Night before Christmas story."
'A Very Potter Hanukkah'
"A Very Potter Hanukkah" is an original play written by directors Savara Gunn and Bridget Poindexter. "I grew up watching 'Harry Potter,' so I thought it would be fun to incorporate it into the Hanukkah story," said Gunn. "I found similarities between them."
"The Syrian Greeks wanted the Jews to believe in their God, but the rebels fought them," she continued. "And to purify their temple of the Greek idols, the Jews burned candles for eight days — even though they only had enough oil for one day. Similarly, in the last Harry Potter film, the Hogwarts students have to battle Voldemort."
There's a cast of 12, with Brantley Cervarich as Potter; Pressley Johnson, Hermione; Valerie Spiegalthal, Ron Weasley; Kaili Fox, Draco Malfoy; and Nikolas Glover, Voldemort. "I like how enthusiastic our cast members are," said Gunn. "They get along really well together."
She said this Hanukkah story should be more fun for children to watch than the one Westfield used to do because "it's livelier and has jokes in it. And it's relevant because kids are still into Harry Potter; so it'll be easier for them to connect with it and understand it more."
A first-time director, Gunn's having fun. "I have something in mind and I tell the actors what to do," she said. "And it's interesting to see what's in my head show up in front of me."
'Frosty the Snowman'
Featuring a nine-person cast, "Frosty the Snowman" is directed by Rachel McKennedy and Misha Mullany. Portraying Frosty is Kierra Clark. The other leads are Allison Bush, Karen; Wade Parker, John; Lucas Huehuet, Prof. Hinkle; and Anna Krelovitch, Rebecca.
"We have a good cast and everyone speaks well and has a particular energy and vibe that will entertain the children," said Mullany. "This show is all about having fun, so we wanted the cast members to have fun onstage, too — and we're having a blast in rehearsals."
She said the students love doing "Ho-Ho" shows because they provide a stress-free environment for the lower classmen to showcase their acting talents. She also likes directing.
"It's fun to be on the other side and see how much work goes into it," said Mullany. "As an actor, you don't realize how hard it is and how difficult it is to get people to listen to you and to organize everything. But it's also taught me to be a better actor because I understand the character objectives more and have improved my listening skills."
She said the audience will enjoy this play because "We have some slow-motion fights and we'll all sing 'Frosty the Snowman' at the end."
'A Year without Santa Claus'
Helming "A Year without Santa Claus" are Catherine Crossett and Meredith Mehegan. "It's based on the puppet movie of the same name and this is our second year performing it," said Mehegan. "Santa gets sick and wants a holiday. He wants Christmas off because he doesn't think anyone believes in him anymore. So Mrs. Claus sends two elves, Jingle and Jangle, to a town to try to get people more into the Christmas spirit."
Leading the 13-person cast are Aja Gore as Mrs. Claus; Drew Tobin, Santa; the heat miser, Richard Helwig; the snow miser, Joshua Hiltpold; Jingle, Rylee Russler; Jangle, Gene Kim; and Iggy, Gopika Ramesh.
"We have a talented group of actors, and I'm excited to see the final product," said Mehegan. "The audience will like seeing the movie come to life onstage, as well as the storyline — the idea of a year without Santa Claus and the way he's convinced to still bring everyone Christmas presents."
She says directing is "really cool because you get to see your vision become reality, and it's fun to work with the underclassmen. I've been in these shows, the past two years, and now I'm directing."
'A Charlie Brown Christmas'
"A Charlie Brown Christmas" is directed by Gabby Moses, Morgan Perigard and Andrew Sharpe and has a 14-person cast. Ryan Kirby plays Charlie Brown; Kaley Haller, Lucy; Charlie Parsons, Schroeder; and Patrick Santilly, Snoopy.
"We've got a great cast, all really excited to perform," said Sharpe. "More than half are underclassmen, so it'll be their first time on a Westfield stage. This is the classic, Peanuts show, so people will relate to Charlie Brown and the other characters they've known for years. And they'll enjoy seeing our interpretation of this story."
Sharpe also directed Westfield's VTA (Virginia Theatre Association) piece this year, so this play gives him another opportunity to hone his directing skills. "You get to experience what it's like on the other side," he said. "And you gain a lot of respect for your own director. You try to get as much done in the time you have leading up to the show and be as productive as possible."
Overall, said Sharpe, "All these shows we're presenting are a great run-up to winter break, and it's fun to get people into the holiday spirit."