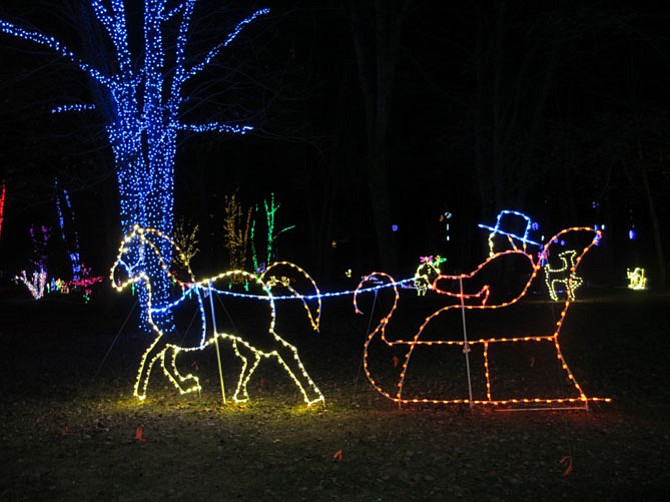 With the two-year closure of the Vienna Community Center, local churches, nonprofits, and businesses have stepped up to fill the void left by the center's absence. Most holiday fairs have passed by early December but special events and activities remain.
Annual caroling on the Town Green will be on Thursday, Dec. 17, starting at 6:30 p.m. Weather permitting. 703-255-6360.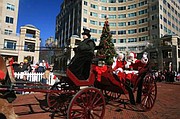 Meadowlark Gardens' Winter Walk of Lights, Nov. 14 to Jan. 4, evening/night, daily.
A half-a-million colorful LED lights create whimsical and fairytale scenes throughout the landscape of Meadowlark Botanical Gardens in Vienna, off Beulah Road.
It is a family-focused event with warm refreshments for sale.
Admission charge. To buy timed tickets, go to http://winterwalkoflights.com/.
Horse drawn carriage rides, Reston Town Center, Saturdays in December from 4 p.m. until 9 p.m.
All proceeds benefit local charities. $5 per person, children 5 and under ride free with adult.
"Magic Moments" art exhibition, featuring works of Vienna Arts Society members; Dec. 1 to Jan. 2, Vienna Art Center.
Memories are reimagined through visual media, from the holiday season to days of the year.
The Vienna Art Center is open 10 a.m. to 4 p.m., Tuesday through Saturday.
During December the VAS Art Center is collecting non-perishable food on behalf of CHO, the Committee for Helping Others. Items may be dropped off at art center whenever it is open.
The Vienna Art Center is located at 115 Pleasant St., NW, Vienna. For information on exhibition or food collection, call 703-319-3971 or go to www.ViennaArtsSociety.org.
Holiday party hosted by the Vienna Arts Society, Thursday, Dec. 10, 7 to 9 p.m. Free and open to the public.
Guests can nibble and imbibe in a unique setting while mingling with artists. The gift emporium is open for sales, with paintings, sculpture, pottery, scarves, jewelry and cards available to purchase. The special exhibition of VAS members' work, "Magic Moments" is on display.
Santa at the Mill, Saturday, Dec. 12, 3 to 6 p.m.
Colvin Run Mill, the oldest surviving mill in the metro region, hosts an old-fashioned family holiday reception for Santa and his friends. Christmas tree trimmed with Victorian decorations. Join the costumed 49th Virginia Volunteer Infantry caroling around a bonfire. Roast marshmallows and make a family craft. $5 per person. (3-Adult) No reservations required. Phone: 703-759-2771.
Outdoor ice-skating rinks; Tysons Corner and Reston – December through February.
There is something "old-fashioned" and timeless about ice skating outdoors, dressed in cold-weather clothes with the prospect of a tummy-warming hot beverage to follow. Reston Town Center and Tysons Corner Center both offer an outdoor rink.
Cooking classes for kids, December break; Culinaria Cooking School.
Kick off winter break with kid-friendly cooking classes on Monday, Dec. 21 at Culinaria Cooking School in Vienna. Chefs Stephen and Pete will teach both a morning class and an afternoon class for kids and teens aged 9 to 17. Each class is $65/person; $120/person for both classes.
9:30 a.m. to 12:30 p.m. Pizza Pockets and Stromboli
2 p.m. to 5 p.m. Holiday Baking
To register, go to http://www.culinariacookingschool.com/2015/11/kidsteens-winter-break-classes/ or call 703-865-7920 for more information.
Culinaria is at 110 Pleasant Street NW.