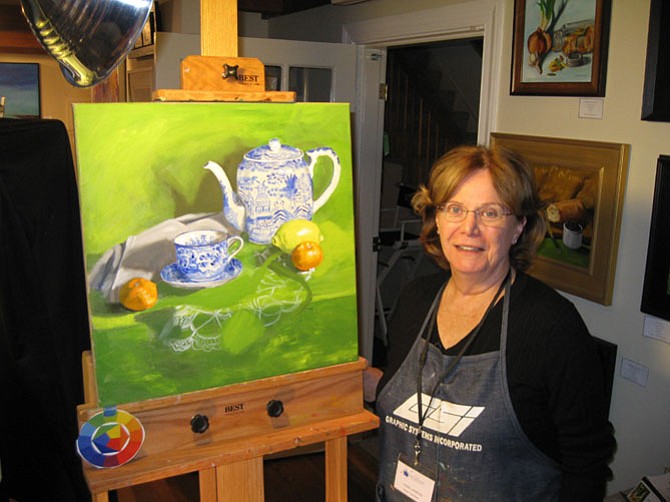 Photo Gallery
The Gift of Art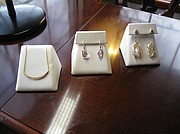 Click Photo for Flash
For finding the perfect holiday gift for that special someone, Adeler Jewelers offers custom-designed jewelry for every occasion. They highlight unique gemstones and pearls and elevate them into jewelry that can be worn on any occasion. The family-owned and operated store is the oldest established retail business in Great Falls, since 1981, and prides itself on providing excellent service. And everything is custom-made on the premises.
"The holidays are a wonderful time of the year to embrace moments with family to build traditions. And jewelry is a great vessel or tool to capture those moments because it is an heirloom that can be passed down through generations," said Wendy Adeler Hall, vice president of business development.
Adeler Jewelers is located at 772 Walker Road, in the Village Center at Great Falls. Visit www.adelerjewelers.com.
Artists on the Green, located in the Great Falls Village Center, is a 12-artist co-op that serves as an artists' studio offering painting classes and workshops for children and adults. The artists work in oils and acrylics and offer their original, hand-painted works for sale from roughly $75 to $1,200. This weekend, everything was on sale at 20 percent to half off.
"Purchasing a painting for a gift is not only appreciated but it does appreciate in value," said Coty Dickson, one of the fine artists.
Artists on the Green is located at 776B Walker Road, in the Great Falls Village Center. Visit Coty Dickson at www.cotydickson.com.
Artists' Atelier is a 10-person co-op with four oil painters, three acrylic painters, one photographer, one fabric artist, and one botanical artist occupying the studio spaces. The artists do their art work in the space and everything they do is available for purchase.
Fine artist Carol Howard, who currently has her works hanging at Katie's Coffee House at the Old Brogue Restaurant in the Great Falls Village Center, sells her hand-painted pieces on linen from $300 for a 12x12 up to $900 for a 16x20 framed.
Photo Gallery
The Gift of Accessories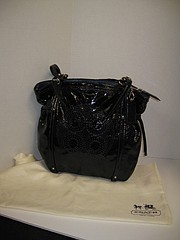 Click Photo for Flash
The Artists' Atelier is located at 756 Walker Road, in the Great Falls Village Center, in Great Falls. The hours are Wednesdays, noon to 4 p.m.; and Saturdays 10 a.m. to 2 p.m., or whenever the flag is out, it means someone is working. Visit www.GreatFallsAtelier.com.
At Viva La Diva Luxury Consignments, located in the Great Falls Shopping Center, store owner Judy Stone carries women's and girl's clothing, shoes and accessory items that would make perfect holiday gifts. The inventory in varying price ranges comes from some of the finest closets in Great Falls and McLean.
"Consignment store shoppers are among the best-dressed because they can afford to be," said Judy Stone.
The store at 9843 Georgetown Pike in Great Falls is open Mon.-Sat. from 10 a.m. to 7 p.m.; and Sunday holiday hours from 1-5 p.m.
More like this story