"I am excited about the opportunity to expand the reach and benefits of ASF to more of the youth in our community." — ASF Executive Director Stephen Mutty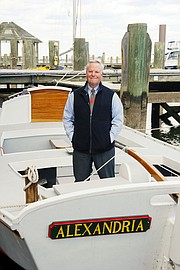 Stephen D. Mutty, a leader in the commercial real estate industry and longtime supporter of the Alexandria Seaport Foundation, has been named by the organization as its new executive director.
"I'm very excited about this opportunity," said Mutty, who took over the position effective Dec. 1. "The Alexandria Seaport Foundation has been a vital contributor to the well-being of the Alexandria community for 33 years. Through our core programs, the Boat Building Apprentice Program and the Middle School Math Program, ASF has changed the lives of hundreds of young men and women in our community."
Mutty brings to ASF extensive management expertise, personal and professional investment in the City of Alexandria, nonprofit board experience and a life-long dedication to changing young peoples' lives.
"We are excited to have Steve as part of our ASF family," said ASF board chair Candy Clary in making the announcement. "His strong leadership qualities, passion for the mission and his community centric focus will allow us to serve more young people in Alexandria and the surrounding communities through our Apprentice Program and through our Middle School Math Program partnership with the Alexandria City Public Schools."
A resident of Alexandria, Mutty originally hails from a sailing and seafaring family from Boston. He has been a supporter of ASF for several years and has a long history of volunteer and charitable efforts, including work with Best Buddies Virginia, Boy Scouts of America, DC Building Industry Association and two terms on the Alexandria Waterfront Commission. He and his wife, Maryanne, were a host family for Children of Chernobyl for several years.
Mutty brings significant business experience to ASF, having spent more than 30 years in commercial real estate, most recently as senior vice president of Colliers International.
Established in 1982, the ASF is a nonprofit organization that uses traditional boat building to help at-risk and disadvantaged youth improve their lives. ASF's signature Boat Building Apprenticeship Program is a nationally recognized workforce readiness program that teaches at-risk youth between the ages of 18-22 the job and social skills necessary to secure well-paying, career-path jobs.
Along with career and woodworking skills, apprentices improve their academic competencies (reading, math and history) and are introduced to science, technology, engineering and math through project-based learning, carpentry and traditional wooden boat building.
ASF's Middle School Math Program works with local middle school youth teaching math through the building of small projects such as cigar box guitars, skateboards and model boats.
"I'm still getting settled in," said Mutty, who just completed his first week on the job, "But I am excited about the opportunity to expand the reach and benefits of ASF to more of the youth in our community,"
For more information, visit www.alexandriaseaport.org.