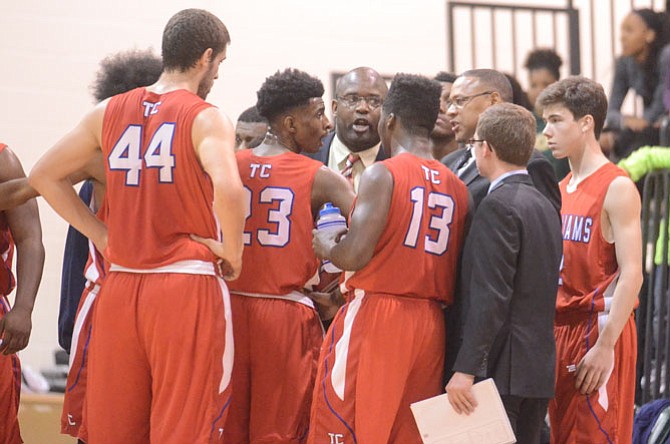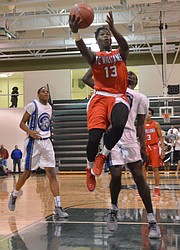 Senior guard Tavaris James scored T.C. Williams' final six points of the first quarter, including a runner in the lane during the final seconds.
Senior guard Jordan Jones got into early foul trouble and scored just two points in the first half, but responded with 15 in the second.
There were bright spots for the T.C. Williams boys' basketball team during Saturday's matchup with Wakefield, including the performances of James and Jones, who each scored 17 points. But the Titans failed to chip away at a nine-point halftime deficit and lost their fourth straight meeting with the Warriors, 74-56, on Dec. 5 in Arlington.
T.C. Williams trailed by 14 in the second quarter, but closed the first half on a 7-2 run, cutting the Wakefield lead to 36-27 on a bucket by Andrew Tovsky.
A 3-pointer by Jones with 7:05 left in the third quarter brought TC within nine at 39-30, but Wakefield started to pull away and led by as many as 24 in the fourth quarter.
The loss dropped TC's record to 1-1.
"I think we played OK, but we didn't play up to where we know and our coaches know we could play," James wrote in an email. "[We] missed open shots. [I] just thought it wasn't what we were capable of doing."
Freshman guard Jaquan Johnson Terry and Tovsky each scored six points for TC. Junior forward Fahmmi Mamo had five points and 10 rebounds.
Last season, Bryan Hill's first as head coach of the Titans, TC earned the No. 2 seed in the Conference 7 tournament, but suffered a season-ending 59-55 loss to No. 7 South County. After finishing at the bottom of the regular-season conference standings, the Stallions went on to beat Lake Braddock in the semifinals and defeated Woodson in triple overtime in the conference championship game.
"Yes, we still have that sour taste in our mouths," James wrote. "It makes us motivated, especially me, to get back ... and also play my best against every team so we can come out the No. 1 seed instead of the No. 2 seed."
T.C. Williams will host Ballou at 6 p.m. on Saturday, Dec. 12 and will open conference play with a road game against Lake Braddock on Tuesday, Dec. 15.
"I expect us to do everything we were taught better than we did last year," James wrote. "I think that if everyone buys into what the coaches say, we could be effective and dominant."