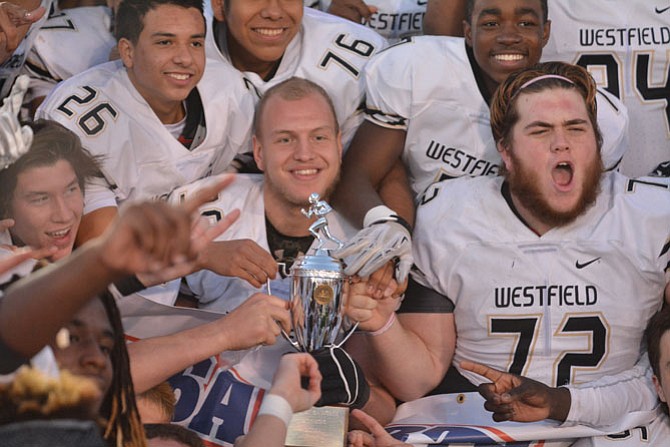 Senior receiver Tyler Scanlon said members of the Westfield football team wanted to win Saturday's 6A North region championship game for head coach Kyle Simmons, who led the Bulldogs to the previous four region finals, only to fall short.
Junior linebacker Kevin Petrillo said Westfield was out for revenge against South County, looking to atone for the Stallions' 26-19 regular-season victory over the Bulldogs on Sept. 11.
Westfield had several sources from which to draw additional motivation entering its rematch with South County. Regardless of the reasons, the Bulldogs made one thing perfectly clear on Dec. 5 in Lorton: Westfield is the best team in the region.
The Bulldogs captured their first region championship since 2007 with a 40-8 thrashing of the Stallions at South County High School. Westfield (13-1) will travel to Charlottesville to face undefeated Oscar Smith (13-0) in the 6A state championship game at 4:07 p.m. on Saturday, Dec. 12 at the University of Virginia's Scott Stadium.
"That weight's been on us the whole year," Scanlon said. "Early in the year, we were No. 1 preseason ranked; everybody had us walking through this region. Things happened that don't happen: kids got suspended, kids got expelled, kicked off the team. We've gone through so much adversity — guys getting hurt. We felt the past four years — every single one of our siblings, our friends, that went through it and fell short, every single day at practice we were dealing with it.
"I think a lot of us wanted to win this for Coach Simmons because he's been through it those four years.
That's tough as a coach, being so close. We just wanted to put him over the top."
Westfield kicker Brian Delaney booted a 49-yard field goal in the closing seconds of the second quarter, giving the Bulldogs a 13-0 halftime lead.
Westfield pulled away in the second half, extending its lead to 40-0 when quarterback Rehman Johnson
scored on a 1-yard sneak with 4:32 left in the fourth quarter.
South County scored its lone touchdown when quarterback DeAndre Clayton connected with Chu Chu Enechionyia for a 35-yard touchdown with 4:08 remaining.
"We played awesome," Petrillo said. "We executed the game plan almost to perfection. They weren't getting anything on us."
Westfield scored on its first five possessions of the second half. Johnson started at quarterback for the second straight week, finishing 8 of 13 for 70 yards and a touchdown. Scanlon, who won Conference 5 Offensive Player of the Year honors at quarterback, played receiver for the second straight week — the position he played for Westfield last season.
Scanlon caught three passes for 32 yards.
"We did some things later in the regular season that were successful with myself at quarterback, but things became stagnant," Scanlon said. "Defenses started catching on, they started scouting us. We don't have anybody who's crawling for scholarships because they've got to play one position. We've got a team who just wants to play football and wants to win games. It was an easy decision [to play Johnson at quarterback], frankly. It was 'How are we going to score more points?' because we're not doing it
right now."
Running back Tim Beard carried 23 times for 227 yards and a touchdown.
Receiver Ivory Frimpong caught a touchdown pass, and Jay Aiello scored a rushing touchdown.
Delaney made four field goals.
After beating Washington-Lee in the season opener, Westfield lost to South County 26-19. The Bulldogs won their next 11 games to earn a rematch with the Stallions.
"We [wanted] revenge," Kevin Petrillo said. "A lot of stuff was said at the end of that game and we left with a lot of bad feelings after that game and we [wanted] to show that we've been improving all season and we're the best team in the region."
Now that Westfield snapped its four­year losing streak in the region final, the Bulldogs will attempt to win their first state championship since 2007.
"I don't really think about the falling short part," Simmons said. "I'm so proud to be in the mix five years in a row. I just don't know how you look at that and see something negative. It takes a lot of work to get here and to be consistent and to have done it for five years. I'm happy for my staff, who have put in five years of hard work."... I'm just so happy for them. Of course you're happy for the players, but the players come and go, the coaches are with you year in and year out. They're spending their Saturdays and their Sundays preparing and all for this next step. I'm just so happy for all the people involved to get there."