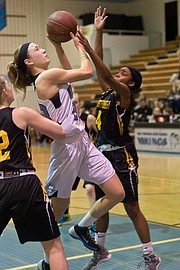 The Whitman girls' basketball program has won two of the last three region championships, posting a record of 65-9 during that stretch. This year, the Vikings return four players who have received Division I offers and enter the season battle tested following a preseason full of scrimmages against WCAC opponents, and an opener against Philadelphia's Neumann-Goretti Catholic High School.
After three stellar seasons, expectations remain high for the Vikings.
"These kids are on a mission," head coach Pete Kenah said. "I've got expectations to get better each day and play our best ball in March, but these guys have no problem talking about that they want to go back to Towson [for the state playoffs]. They feel it's unfinished business."
The four Vikings to receive Division I offers are senior guards Hannah Niles (Loyola) and Marie Hatch (Cornell), senior forward Betsy Knox (offer from UMBC, will play at D-III Middlebury) and junior guard Abby Meyers, who has received six Division offers, Kenah said.
Meyers is a 6-foot scoring threat who spent the offseason playing for Team Takeover of the Elite Youth Basketball League, which Kenah said made her a better player.
"The part that's so great is Abby loves basketball," Kenah said. "Her post game is a little bit better than last year."
Hatch, who has battled injuries throughout her high school career, moves to point guard this season. Hatch scored 23 points against Wootton in last year's region final before suffering a fractured ankle.
"I just want her to have a healthy year," Kenah said. "... The ball is going to be in her hands. ... She's the best perimeter defender in the county. ... She just stuffs the stat sheet. She's so valuable."
Kenah said Niles is an inside-outside threat, and Knox is the "heart" of the defense.
Whitman lost its opener against Neumann-Goretti 75-38 on Dec. 5 in Fairfax, Va. Meyers led Whitman with 16 points and Niles added seven.
Neumann-Goretti is ranked No. 6 in the nation by USA TODAY.
Neumann-Goretti was the "best team I've seen in 14 years of high school coaching," Kenah said. "... They're awesome in every way."
Whitman dfeated Gaithersburg 69-37 on Tuesday, improving its record to 1-1.
The Vikings will travel to face Georgetown Visitation at 10:40 a.m. on Saturday, Dec. 12 at Woodrow Wilson High School.