For anyone wondering where The Curious Grape went after closing its Shirlington restaurant this past March, Suzanne McGrath is still very much engaged in the local wine and food community, just without the restaurant. Her career interest has always been educating people about wine, and she wanted to do more of that, and less of the nuts and bolts restaurant business, which involved a 24/7 work week leaving little time for other interests. She recently paired up with Katie Gilman to offer custom wine tasting events, and the "pairing" appears promising.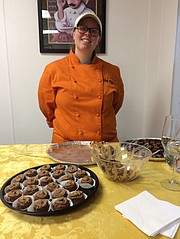 On Dec. 7, Gilman and McGrath invited locals to sample their wine and holiday food pairings at the Dominion Hills shopping center location of Taste by Katie at 6017 Wilson Boulevard. Gilman made stuffed mushroom caps, spiced nuts, and rich chocolate ganache mini-cakes, and McGrath paired them with a 2013 Planet Oregon Pinot Noir and a non-vintage Jip Jip Australian sparkling Shiraz, which is traditionally quaffed by the Aussies on Christmas morning, but it goes with dessert too. It's the kind of surprise McGrath enjoys springing on her clients, and her expression of delight when a skeptic tried it and then wanted a case of it, is what makes this new venture exciting.
Taste by Katie and McGrath are gearing up for the holidays with a five-course Wine Tasting Dinner offered through Dec. 31. McGrath also offers private wine tasting events with pairings of food by Gilman.
To order either the five-course dinner, or the private tasting, or to pick up holiday food gifts of biscotti and holiday breads, contact Gilman at tastebykatie@gmail.com or McGrath at tcgrape@earthlink.net. Orders should be placed one week in advance.