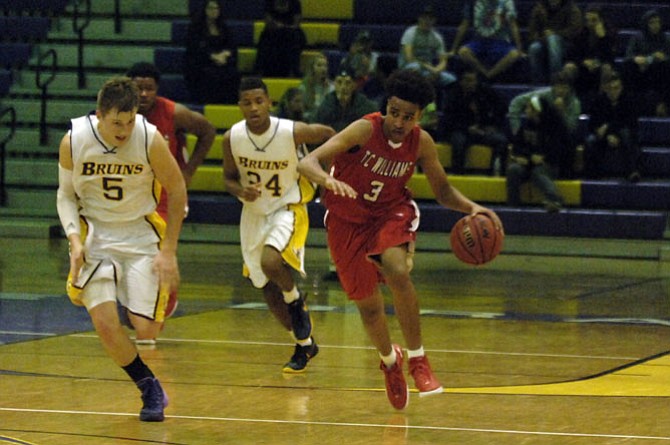 The T.C. Williams boys' basketball team entered the fourth quarter of Tuesday's Conference 7 opener against undefeated Lake Braddock with a four=point lead despite the absence of standout guard Tavaris James, who sat out due to illness.
By the end of the contest, three Titans had scored in double figures, led by a career-high 28 points from junior guard Fahmmi Mamo.
In a postgame interview, head coach Bryan Hill said TC has "improved exponentially" early in the season.
While T.C. Williams had reason for optimism Tuesday, the Titans failed to secure a victory in Burke, thanks primarily to a career=best performance from 6-foot-8 Lake Braddock senior James Butler.
Butler, a Navy signee, scored 46 points, including 18 in the fourth quarter, and the Bruins improved to 5-0 overall and 1-0 in the conference with an 83-77 victory at Lake Braddock Secondary School.
The undersized Titans had no answer for Butler, who was a force in the paint. T.C. Williams' tallest player, 6-foot-5 center Andrew Tovsky, fouled out with 6:30 remaining and Lake Braddock leading 64-62. Butler, who surpassed his previous career-high of 35 points, continued to capitalize on the Titans' lack of height, scoring in the post and on putbacks.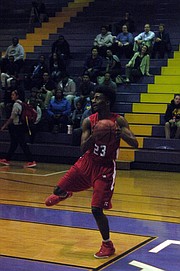 "TC, once the big boy got in foul trouble and they just tried to surround [Butler] a little bit, and it was tough," Lake Braddock head coach Brian Metress said. "I thought we ran offense well, we threw passes to him and we got him in all sorts of different matchups."
After a jumper by T.C. Williams guard Jordan Jones cut Lake Braddock's lead to 68-66 with 5:08 remaining, Butler scored Lake Braddock's next 11 points.
Butler's final field goal gave the Bruins a 79-72 advantage with 1:15 remaining.
"A guy has a big game like that, it's what it is," TC head coach Hill said. "It's basketball, it's what happens."
Butler's effort overshadowed a big night for Mamo, who finished with 28 points. The second-year varsity athlete scored 17 in the first half and knocked down a trio of 3-pointers.
"I thought his effort was the best yet, the best that I've seen," Hill said. "He's really, really going to continue to blossom and grow — [he's] just a junior. He played the point guard for us today and I thought he did a great job. I challenge him all the time. He's a fantastic student — all honors classes, like a 3.7 grade point average, a really good kid. It's best to have a kid like that on your roster."
Jones scored 16 points for the Titans, including 12 in the second half.
"Jordan Jones really has done a great job being a senior leader for us," Hill said. "... I'm really thankful to have him back this year."
Freshman guard Jaquan Johnson knocked down four 3-pointers and totaled 14 points. Junior forward Teyan Williams scored nine points and junior guard Gabriel Harold added seven.
The loss dropped TC's record to 1-3 overall and 0-1 in the conference. The Titans will travel to face West Potomac at 7:15 p.m. on Friday, Dec. 18.
"We're a work in progress," Hill said. "I really like our team. The kids have bought in and they're really working hard. I'm not necessarily happy with the loss, but I'm happy with the effort and the willingness to continue to fight and compete and improve as a team and I think as the year endures, we'll show up and be right there."