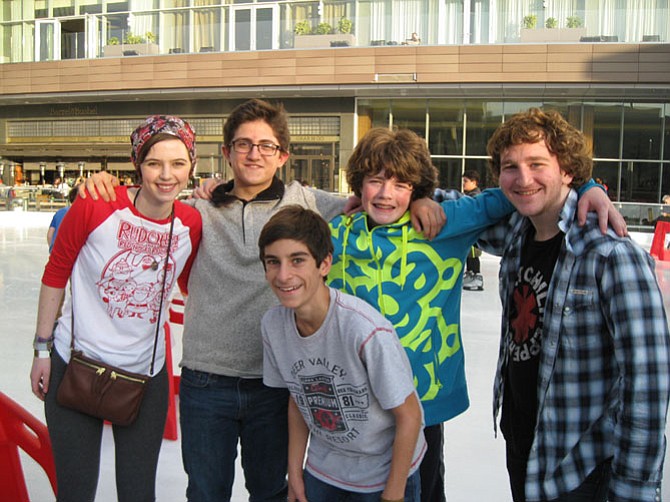 Photo Gallery
Tysons Ice Skating 2015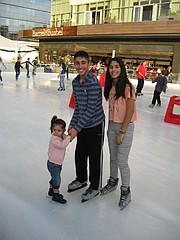 Click Photo for Flash
The new 6,000 square foot Tysons Corner Ice Rink has officially opened this season on Friday, Nov. 13, and will run through March 6, 2016. The outdoor rink located near the Silver Line Metro is situated on The Plaza next to Lord & Taylor on the second floor of the mall. A new Hyatt Hotel opened next door last March.

What's different this year is all of the surrounding stores and restaurants are fully opened and occupied, said ice rink general manager Marissa Marwell, who's been in the business for 11 years.
"Now that the plaza is fully opened, there's something for everyone," she said. "We've got the ice skating, the restaurants (Barrel and Bushel, Earl's Kitchen and Bar, Starbucks and Shake Shack), and the playground and fire pits to warm up."
The cost for ice skating is $10 for admission, $9 for child ages 12 and under, and $6 per skate rentals. The group rate (10 or more guests) is $12 per person (includes admission and skate rental). The rink hours are Mondays and Tuesdays from 3 to 7 p.m.; Wednesdays and Thursdays from 3 to 9 p.m.; Fridays 3 to 11 p.m.; Saturdays 11 a.m. to 11 p.m.; and Sundays 11 a.m. to 7 p.m. The skate rental shop is located inside the mall on Level 2 near Lord & Taylor.
Besides general ice skating, the rink offers Birthday Party packages, fundraising opportunities, learn-to-skate lessons (private and semi-private) and private rentals.
"It's never too late to learn to skate," said Marwell. "We offer ice skating lessons for ages 3 and up. (Spaces are still available for Session 2.)... It's also a perfect way to celebrate your birthday party with friends in a magical outdoor atmosphere."
For younger kids, the rink offers a weekly Cartoon Skate on Saturday mornings. "We have our rink mascots join the children out on the ice from 11 a.m. to 1 p.m. every Saturday morning," said Marwell. "We have Pepper the Penguin, Spots the Dalmatian, Winter the Polar Bear and Lutz the Lion. They skate and interact with the children and their families."
For the older crowd, there's Saturday Night Rock and Skate from 7 to 9 p.m. with DJ Civil. "We do live request, shout outs and a lot of dancing. It's really fun. It's open to everyone," said Marwell.
For more information, visit the web site: www.tysonscornerlearntoskate.com. The email is skatetysonscorner@gmail.com. Call 703-356-1240.