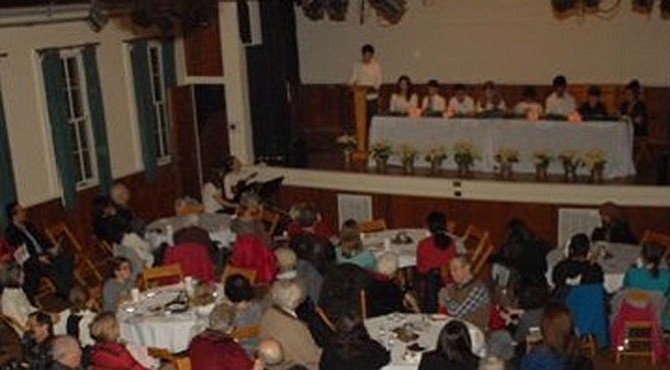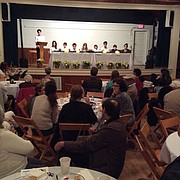 At our annual holiday celebrations over the last few years, we have noted the increasingly diverse community that Great Falls has become, as families from cultures around the world have journeyed by plane to Great Falls - as compared with travel by foot or horse-and-carriage more than 100 years ago – to live and work nearby.
History is the study of past events – GFHS's mission is "To feel the pulse of earth where man has trod, and for the future, keep the past." This holiday season, we sought to acknowledge and record the coming together of residents from many countries around the world to share our place on earth, our home, Great Falls. We sought to reveal the faith traditions of neighbors at this special time of the year when local Christians "make room in the inn" - extending openness and welcoming hospitality as "men of goodwill."
The planning committee included Charles Stevenson, Janet Hill Al-Hussaini, Marjaneh Adell, Eve Loudenback, and I. We met twice a week for six weeks to research and unfold the story of neighborliness in today's context. We wanted the program to be local – representing the faith traditions of people who live in Great Falls today, inviting all local residents to take part in our holiday gathering.
The program began with a half-hour presentation by nine youths that compared the sacred scriptures of eight religions with regard to nine messages of "neighborliness" – we referred to these as "messages of light:" The Golden Rule; speaking truth; being generous; loving; being a peace-maker; "as you sow, so shall you reap;" living by "more than bread alone;" not judging; and living in unity. Each of nine youths who practiced one of the religious traditions read their religion's scriptures on the topic. To everyone's amazement, each faith tradition has language on the core "messages of light" that were just about identical in guidance and direction – and often in wording. We were able to find the appropriate scriptures for each religion, thanks to the power of the Internet. It is now possible to search a topic and a religion and find relevant quotes fairly quickly.
THE FAITH TRADITIONS and the youth who read were: Mateen Ghassemi, 17, Potomac School, senior, who introduced each theme; American Indian, read by Noora Haghighi, Langley High School junior; Baha'i, Jian Mostaghim, 12, Potomac School; Buddhist, James Tran, 12, son of Julie and Vu Tran of the Nail Salon in Great Falls; Christian, Delaney Ross, 10, Colvin Run Elementary (and granddaughter of Pauline Ross, one of the earliest members of the Society); Hindu, Arnav Ketineni, 8, Colvin Run Elementary; Muslim, Kareem Baig, 14, Cooper Middle School; Jewish, Issac Zaret, 10, Great Falls Elementary; and Zoroastrian, Aundia Mehr Rostami, 17, South Lakes High School senior.
The overriding message: It seemed as if there is one Great Spirit (as the American Indian would say), who has been revealing the same messages to prophets in each individual culture around the world – speaking the same messages to prophets in the local language. It is only now that the Internet allows us to understand the meanings across languages, that we can see the connections and realize the unity of values and principles inherent in all faith traditions.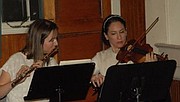 A reflective atmosphere was enjoyed thanks to the classical violin and clarinet played by Kismet al-Hussaini and Stephanie Hanson, respectively. Jon Paul of Megawatt provided the sound engineering -- which was extremely important for this event – and Archie Brown filmed the event, while T.R. Cook took photos. The film and text will be available on our website later this month.
Everyone was invited to bring a traditional holiday dish to share. Thanks to all the wonderful cooks who took the time to bring something wonderful, the cuisine was delightful!
THE GREAT FALLS HISTORICAL SOCIETY was organized in 1977 to promote community spirit by bringing the past into the present. Our next program will be held on Jan. 13 at 7 p.m. at the Great Falls Library. For more information about that program or to join the Great Falls Historical Society, visit our website at www.gfhs.org or our Facebook page at www.facebook.com/GreatFallsHistoricalSociety.