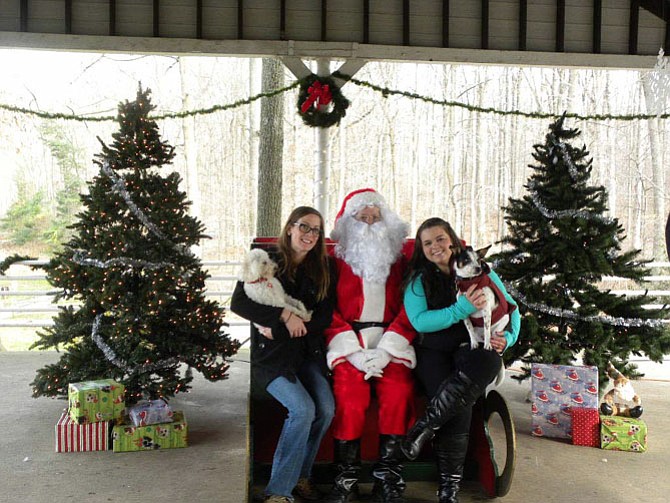 Photo Gallery
Lake Accotink Santa Visits 2015
Click Photo for Flash
Santa cut a lonely figure waiting for visits from pets at the pavilion in Lake Accotink Park in Springfield on Saturday, Dec. 12. But, it has only been half an hour.
Soon, Amanda Temenak and Jack Russell terrier mix Romeo, of Alexandria, came, along with Romeo's girlfriend cockapoo Layla with her owner Katelynn Bradley, of Springfield.
What did Romeo whisper to Santa that he would like for Christmas? Temenak said it is probably a big, rawhide bone, "bigger than his body."
The littlest visitor also stopped by the pavilion. Hannah Poole, six months, got her photo taken with Santa. Her parents Alison and Jonathan Poole, of Alexandria, were visiting the park for a walk and a bike ride.
But Iby Bond, of Springfield, was not quite ready to sit on Santa's lap. He and mother Tammy went on the horse-drawn hayride, instead, one of the activities at Lake Accotink Park, as well as a tractor-pulled hayride and a lakeside campfire.
The lighted trees, wrapped presents, icicles hung from the rafters and Santa sitting on a sleigh painted a classic Christmas scene despite the balmy temperatures of the day.