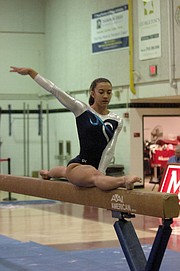 Members of the Washington-Lee gymnastics team swarmed Sophie Hatcher after judges posted the senior's floor routine score during Monday's Conference 6 championship meet at McLean High School.
The Generals had performed well through three events, but Hatcher's performance on floor (9.575) seemed to give the team a confidence boost during an ultra-competitive meet that was guaranteed to leave one of the top teams in the region empty-handed.
With W-L, Yorktown and McLean competing for the conference's two regional berths, the buzz created by Hatcher's floor routine transferred to the Generals' final event: vault.
A spirited W-L cheering section offered support as Hatcher and her twin sister, Annie Hatcher, produced the meet's top two vault scores and the Generals assured their season would continue into next week.
Sophie Hatcher captured the conference all-around championship and Washington-Lee earned a regional team berth with a runner-up finish, holding off rival Yorktown. McLean won its fourth consecutive Liberty District/Conference 6 championship with a score of 143. W-L posted a score of 142.225, and Yorktown fell short with a total of 141.
Fairfax finished fourth at 125.275, followed by Hayfield (121.1), South Lakes (115.125), Madison (108.7) and Langley (81.3).
"We knew it was anyone's game to make it to regionals because this conference is so good and there are so many good teams," Sophie Hatcher said. "I'm just really excited my last high school season doesn't end here and we get to continue on to regionals. We're all really, really happy and excited."
Sophie Hatcher was a big reason why W-L secured a regional berth.
Her all-around score of 37.625 was a full point better than her nearest competitor. She won conference championships on vault (9.75) and floor, placed second on beam (9.4) and took sixth on bars (8.9).
"It feels so good because at all my other meets, I didn't ever hit all four [events] — I always had some mistake — but today I hit all four and I'm really happy," she said. "This is the best meet I've ever had in all my four years of high school."
Annie Hatcher placed fifth in the all-around with a score of 36.2, securing a regional berth. She placed second on vault (9.7), tied for fourth on beam (8.95), took sixth on floor (8.875) and finished seventh on bars (8.675).
The top four all-arounds advance to regionals, along with any competitor who produces a score of 35 or better. The top eight in each event earn a spot at the regional meet, along with any gymnast who scores 9.0 or better.
W-L's Jennifer Laredo placed eighth on beam (8.85).
Yorktown will send four individuals to the regional meet, but the Patriots won't compete as a team.
Yorktown's Juliette Mitrovich (sixth, 35.85) and Bella Kane (seventh, 35.725) will compete in the all-around.
"It [helps] a little bit," Mitrovich said in regard to her all-around regional berth numbing the pain of the team failing to qualify, "but it would have been nice to make it because we've beaten W-L almost all year and they just had a good meet this one time and we didn't get to make it, but it is what it is."
Yorktown's Sophie Zidlicky will compete on beam (third, 9.025) and vault (eighth, 9.25). Olivia Zavrel will compete on bars (fifth, 8.95).
McLean, which finished state runner-up last season, won its fourth consecutive district/conference championship.
"It's a really great feeling because this is our senior year and there was a lot of pressure to keep our conference championship title [streak]," Highlanders senior Lizzy Brown-Kaiser said, "so it feels great to fulfill that."
McLean's Jacqueline Green placed second in the all-around (36.625) and Brown-Kaiser placed third (36.425).
"They did good," McLean head coach Courtney Lesson said of the senior duo. "They hit three of four routines — they both had a fall on beam. We still have a couple more meets to go, so hopefully they'll get better."
While McLean finished ahead of W-L at back-to-back Conference 6 meets, the Highlanders have finished runner-up to the Generals at three consecutive regional meets.
The 6A North region championship meet is scheduled for Feb. 11 at Lake Braddock Secondary School.
"They've beaten us the past few years at regionals," Green said, "so we hope to come back this year and take it."
Fairfax senior Rachel Barborek, the defending 2014 conference all-around champion, placed fourth with a score of 36.250. Hayfield's Molly Overstreet (eighth, 35.675) also earned a regional all-around berth.
Overstreet, a two-time state champion who has battled back problems this year, won the conference bars title (9.5). Barborek won the beam (9.425) championship.