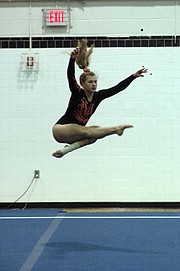 Hayfield gymnast Molly Overstreet is a two-time state champion, but her junior year has been marred by lower-back pain.
Years of competing has taken a toll on Overstreet's body. On a scale of 1-10, Overstreet said her back pain is a 6 during meets, and a constant 3 or 4 during everyday life.
Overstreet captured a three-way share of the state vault championship as a freshman in 2013. The following year, she won the state bars title with a VHSL-record score of 9.925. Due to back pain, however, she spent most of the 2014-15 season unable to give her best effort.
"I've definitely watered down most of my routines for the preseason," she said.
On Feb. 2, Overstreet competed at the Conference 6 championship meet at McLean High School. The result was a conference bars title and a berth in the 6A North region meet as an all-around competitor.
Overstreet won the bars event with a score of 9.5. She tied for seventh on floor (8.8), finished 13th on vault (8.85) and came in 16th on beam (8.525).
She finished eighth in the all-around with a total of 35.675.
The top four all-around finishers qualify for regionals, along with any gymnast who totals a score of 35 or better. The top eight advance in each event, along with any gymnast who scores a 9.0 or better.
Overstreet said she'd like to add to her bar routine for the 6A North region meet, scheduled for Feb. 11 at Lake Braddock Secondary School.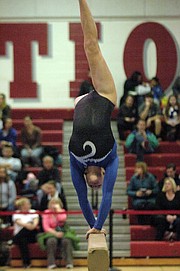 After last year's state-record performance on bars, does Overstreet feel pressure to perform at a high level?
"Definitely, yes," Overstreet said. "I just try to do my best and have fun, but there always will be that pressure because I was the state champ."
Joining Overstreet as an all-around gymnast at regionals will be Fairfax senior Rachel Barborek, who placed fourth at the Conference 6 meet with a total of 36.25. She won the conference beam championship (9.425), placed second on floor (9.5), finished 11th on vault (9.025) and tied for 12th on bars (8.3).
Washington-Lee senior Sophie Hatcher won the all-around title with a score of 37.625.
"It feels so good because at all my other meets, I didn't ever hit all four [events] --- I always had some mistake --- but today I hit all four and I'm really happy," she said. "This is the best meet I've ever had in all my four years of high school."
McLean's Jacqueline Green finished runner-up (36.625) and Lizzy Brown-Kaiser was third (36.425).
McLean won its fourth consecutive Liberty District/Conference 6 championship with a score of 143. Washington-Lee finished runner-up (142.225), earning the conference's other regional team berth.
Yorktown was third (141), Fairfax (125.275), Hayfield (121.1), South Lakes (115.125), Madison (108.7) and Langley (81.3).
"It's a really great feeling because this is our senior year and there was a lot of pressure to keep our conference championship title [streak],"
Highlanders senior Lizzy Brown-Kaiser said, "so it feels great to fulfill that."