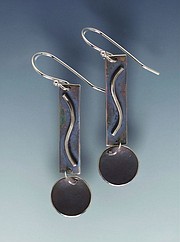 Jewelry lovers and others can meet more than 30 carefully selected designers and artisans for a special day of shopping from 11 a.m. to 5 p.m. on Saturday, Feb. 7, when the McLean Community Center's 8th Annual Jewelry Showcase will be held. Admission is $3 per person. The Center is located at 1234 Ingleside Avenue.
These established jewelers employ a wide variety of materials to create their collections, including semi-precious stones, beadwork, 14K gold, sterling silver, bronze, copper, precious and mixed metals, gemstones, pearls, clay, crystals, polymer and titanium. Show producers ensure that there are items for every age, taste and budget. Many of the artisans also take custom orders or do repair work.
At press time, participating vendors included: Starland by Hand (sterling silver, copper, metal, clay), Courtney Gillen (silver, sea glass, pearls and etched glass), I-Spy Artisan Jewelers (mixed media artisan jewelry), Kelly Glass Studio (fine lampworked glass), Larre Designs (eclectic, wearable art), Georgene Novak Designs (metalwork wearable art) and Carloyn K. Designs (fused glass). Lunch and dinner fare will be provided by Sweet Stuff of McLean.
To download a $1 off admission coupon visit the Center's Web site: www.mcleancenter.org/special-events. For more information, call 703-790-0123, TTY: 711.
More like this story