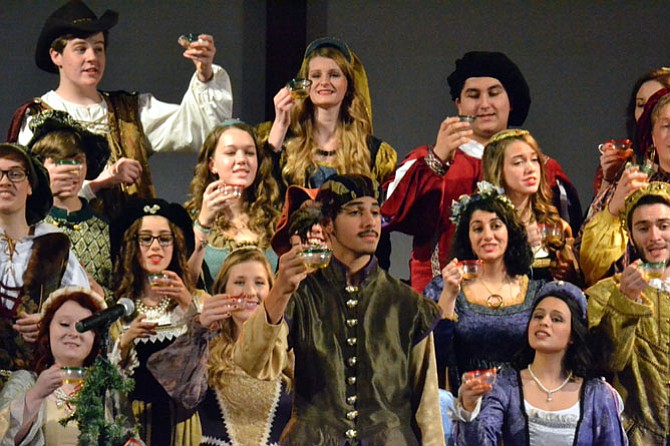 The Langley High School Madrigals recently completed a busy fall and winter season with a performance at the Providence Baptist Church Twelfth Night Feast on Jan. 8. The Madrigals, a small vocal ensemble that performs mostly Renaissance music with an emphasis on independent and a cappella singing, also took part recently in a Tallis Scholars Masterclass with Peter Phillips at Christopher Newport University in Newport News. The choir has performed at a number of events around the Washington, D.C. area over the past few months, including the Anti-Defamation League's Concert Against Hate at the Kennedy Center in October and a Veterans Day performance at the Great Falls Freedom Memorial.
The Madrigals were joined by the Langley Women's Chamber Choir in presenting the school's annual Renaissance Feaste on Dec. 5 and 6. The popular musical celebration, held at the Capital Church in Vienna, featured costumed servers, jesters, minstrels, and musicians in a festive "Greate Hall" environment. The concert and dinner are fashioned after a 16th-century gathering of landed gentry, with entertainment and traditional Madrigal songs and dancing.
Other recent choral events have included performances at the National High School Journalism Convention in Washington, D.C.; and fall and winter concerts at the high school.
The Langley Chorus program will send 54 students, with four alternates, to participate in the All-District Honor Choir concert on President's Day weekend, Feb. 12-14, at Herndon High School. More than 800 students auditioned for the select Women's Choir and Mixed Choir, representing 16 high schools from Arlington and Fairfax Counties. Approximately 300 students were selected for the All-District Honor Choir, which presents an opportunity for high school singers to rehearse challenging music and work with a renowned choral conductor at an advanced level.
Seven Langley High School seniors were selected for the Virginia Music Educators Association (VMEA) Honors Choir. Following auditions held at Longwood College in October, the VMEA Honors Choir rehearsed and presented a concert on Nov. 22 in Norfolk at the VMEA annual conference. Students representing Langley High School were Ethan Zell, Connor Kianpour, Andrew Myers, Ali Burk, Sarah Salem, Yasmeen El-Rafey, and Vivian Vaeth.
Langley High School offers six choirs: the Madrigals, Women's Chamber Choir, Concert Choir, Women's Select Choir, Women's Treble Choir, and VoiceMale. Director of Choral Activities Mac Lambert, now in his 13th year at Langley, leads the award-winning choirs. Under Dr. Lambert's direction, Langley choirs have consistently received superior ratings at district assessments and have earned top scores at Heritage Music Festivals around the country. The choirs will attend the 2015 Heritage Music Festival in San Antonio in March.
More like this story