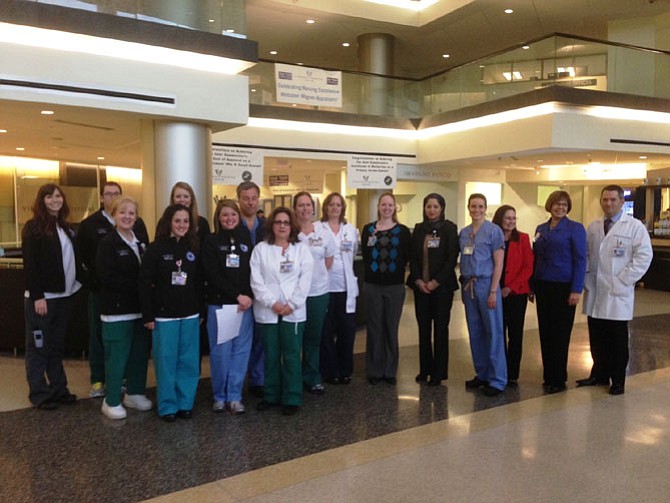 With the current emphasis on patient experience and patient satisfaction in hospitals nationwide, Virginia Hospital Center (VHC) is part of that drive to excel.
Among its highlights, VHC received another feather in its cap in 2013 that continues to be a strong and ongoing motivator that leads patients to acquire care at its medical facility and which continues to bring the hospital accolades and serves as the envy of others. The reward of achieving Magnet Nursing Status designation didn't happen overnight.
The route to attain this was in the works for several years. The Magnet Nursing Status is a designation of excellence for the entire organization and is awarded by the American Nurses Credentialing Center, a nurse credentialing organization that is a subsidiary of the American Nurses Association.
The model organizes 14 forces of magnetism into five model components with a focus on outcome measurement and streamlined documentation. The five core forces of magnetism are: transformational leadership, structural empowerment, exemplary professional practice, new knowledge, innovations and improvements, and empirical outcome. The hospital had to show sustainable hard data in all these areas.
VHC also had to prove that excellent practices are inculcated in the organization. "Structures and processes are the backbone of it. We have an empowered group of nurses," said Rebecca Rose, senior director for systems and special projects. High caliber nurses are expected to be leaders in their roles. They are highly educated and engaged in decisions about patient care. Relationships with physicians are forged with everyone having the same focus to ensure the hospital be the best environment based on the quality of patient care. "Everything is based on what is best for our patients," said Marnie Dodson, magnetic special projects coordinator.
"We have embedded the Magnet standards in our nursing culture to provide the best patient care. It's a continuous journey. We never stop improving, pushing ourselves and learning better way to elevate the practice of nursing here," said Darlene Vrotsos, chief nursing officer.
Though many hospitals hire a company to write the application, VHC chose to write it themselves and had the support of the leadership team and medical staff. "The process piece of applying was the biggest challenge. We had the data. We had to write the application; it was huge," Rose said.
"Nurses had such a personal stake," Dodson said, referring to the dedicated organizational mission and focus on patient care.
Nurses at VHC considered what was working well and what needed to be improved. "Everything is based on what is best for our patients," Dodson said.
They address service recovery through rounding and through a hotline in which concerns and issues can be immediately addressed and resolved. "We educate patients on their rights and responsibilities," Dodson added.
The Magnet structure at VHC is composed of seven nursing councils. "They are very empowered councils. They make decisions that are carried out," Rose said. There is a high level of autonomy for the nurses, and they develop strategic plans for which they are responsible in making necessary changes and managing the process. The councils, that meet monthly, include: Clinical Practice, Education, Leadership, Night Shift Council, Performance Improvement, Professional Development, and Research Council.
One piece of the magnet is to have a professional practice model encompassing leadership, compassion, accountability, teamwork, advocacy, and evidence-based, practical education. "As a team, we look out for each other. The magnet keeps you on the path to be even better than you were and we get feedback everywhere. We really listen to what our patients say. We discuss results every two weeks," Dodson said.
In addition, nurses understand the role they play in patient satisfaction and they hold each other accountable. "We care for not only our patients but we care for each other as staff, as employees," said Margaret Navarro, RN.
"What makes Virginia Hospital Center such a special place to practice medicine is the welcoming, collaborative nature of the nurses here," said Jeff DiLisi, vice president and chief medical officer.
Achieving the magnet designation was an involved process that included a three-day site visit for 12 hours each day by the credentialing team of the ANCC. "Nurses had such a personal stake," Dodson said.
There are 5,686 registered hospitals in the United States, and 406 of them have achieved magnet status. "I'm very proud of the nursing staff and all of Virginia Hospital Center. Our recognition as a Magnet hospital is an achievement that everyone helped produce," Vrotos said.
Karen L. Bune, a freelance writer, serves as an adjunct professor at George Mason University in Fairfax and Marymount University in Arlington.