American Real Estate Partners and Square Mile Capital Management LLC announced on Feb. 2 they acquired the Reston International Center, a 15-story building from JBG Companies. The property is a 179,000 square foot office building located at 11800 Sunrise Valley Drive. In recent years, mixed-use development has taken place around the office tower, including JBG's Reston Heights. AREP acquired the 179,000-square-foot building from JBG affiliate RIC LLC for $35 million, or about $195 per square foot.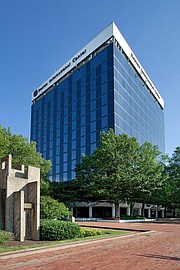 Reston Heights includes The Mercer Condos, The Westin Reston Heights Hotel and office space. The area is about to undergo an expansion that will add about 400 more residential units and 95,000 square feet of retail to the development. AREP decided to pursue 11800 Sunrise in part because of the opportunity to be part of the Reston Heights mixed-use redevelopment. AREP made the acquisition through its American Real Estate Partners Strategic Office Fund.
The joint venture partners will embark on a $10 million renovation of Reston International Center, including the addition of a three and a half story parking deck, and will renovate the lobby and building common areas. With floor plates averaging 12,764 square feet, Reston International Center is appealing to medium size tenants seeking high visibility and prominence. Reston International Center is the tallest point in Reston and features views of Reston National Golf Course, Reston Town Center, the Tysons skyline and the Blue Ridge foothills to the west.
The International Center and Reston Heights is within walking distance of the new Wiehle-Reston East Metro station and the future Reston Parkway Metro station. In the deal with AREP, JBG retains its stake in the rest of that planned development, which is slated to include 400 multifamily units and 95,000 square feet of retail space. The Reston Parkway Metro station is scheduled to begin operating in 2018.
"Reston International Center presents American Real Estate Partners with a remarkable opportunity to renovate and reposition an iconic asset at the epicenter of one of the most vital mixed-use communities being developed along the Toll Road," American Real Estate Partners President Brian Katz said in a statement. "Reston, fueled by the coming completion of the Silver Line stations through Fairfax and Loudoun Counties, will continue to be a magnet for growing companies that value access to highly educated employees, exceptional transportation options and all of the amenities and infrastructure of Reston Heights and nearby Reston Town Center."