Photo Gallery
Fan Quest for Special Olympics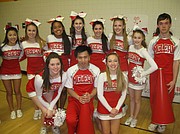 Click Photo for Flash
Oakton High School's gym was filled to capacity with a standing-room only crowd of 700 for Fan Quest 2015 last Saturday, Feb. 7, when Oakton challenged McLean to a game of Special Olympics basketball plus other exciting activities.
In addition to the Special Olympics Virginia basketball game where McLean beat Oakton, 42-24, the event, sponsored by Booz-Allen Hamilton and Grant Thornton, gave athletes the chance to shoot layups, free throws, and three-pointers in the Papa John's Pizza Shoot Out to win free pizza coupons.
The game was interspersed with other activities like "Put Your Best Foot Forward" and "Hut Hut Hike," and entertainment was provided by the Special Olympics Cheerleaders, the Oakton High Drumline, and both sets of cheerleaders from Oakton and McLean. Afterwards, both teams awarded medals to all of the players.
But the highlight of the evening was the roar of the crowd whenever anyone shot a basket or scored. The crowd consisting of family members, the U.S. Marine Corps, and various school groups, literally went wild in showing their enthusiasm and support.
"Fan Quest was originally designed to give our athletes an opportunity that they don't normally get to have -- which is to play in front of a full gymnasium," said Leisha Santilli, director of events. "It's really about bringing the community out to showcase the ability of our athletes. I don't think you could have asked for a better crowd."
For more on Fan Quest, visit www.volunteer2cheer.com.
— Steve Hibbard