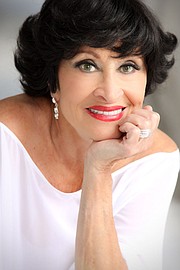 Where and When
"Chita Rivera: A Legendary Celebration" at the Alden Theatre, McLean Community Center, 1234 Ingleside Ave, McLean. Performance: Tuesday, Feb. 24, at 7:30 p.m. Tickets: $75/$45 (MCC district residents). Call: 703-790-0123 or visit http://mcleancent...
A legendary talent will soon arrive at the Alden Theatre to entertain and enthrall; the incomparable dancer, actress and singer Chita Rivera.
In her six decade career, Rivera has been honored with two Tony Awards as Best Leading Actress in a Musical and six additional Tony nominations, received a Kennedy Center Honor for her lifetime contributions to American culture and a Presidential Medal of Freedom among many honors.
"This is going to be an important and unforgettable evening." said Sarah N. Schallern, director, performing arts, McLean Community Center. "Ms. Rivera is one of the most distinguished figures of the American Musical Theatre stage. To be able to spend an intimate evening seeing her perform and hearing about her career is indescribable…especially in a venue like The Alden."
It will be a special concert celebrating a career that includes iconic American Broadway musicals such as "West Side Story," "Chicago," "Kiss of the Spider Woman" (Tony Award); "Bye, Bye, Birdie" and "The Rink" (Tony Award). Another theater award Rivera received was a 2009 Washington, D.C. Helen Hayes for her performance in the musical "The Visit" produced at Arlington's Signature Theatre. Rivera's one-woman tour-de-force concert at the Alden will include live musical accompaniment.
In a phone interview, Rivera described her upcoming concert as "an evening with good friends getting together in a living room away from stresses of the day. I will be telling stories, talking with the audience, sharing things, with plenty of wonderful songs."
The songs will be a playlist of the upbeat and the darker, many immediately recognizable and others to be savored if new to the audience. Songs expected will be from composers and lyricists such as John Kander and Fred Ebb, Leonard Bernstein, Stephen Sondheim, Jerry Herman and those from American musical theater.
A live performance "can bring surprises." noted Rivera. "And the music can make the audience just soar. Lyrics and melodies can help bring memories of times that are familiar come to life. The audience can reminisce and get away.
"I want the audience to be entertained; so they just enjoy themselves with a live theater performance," added Rivera.
Rivera returns to Broadway to star in the Broadway premiere of the musical "The Visit" opening in late March. Perhaps hear some songs before Broadway audiences do. Can't do better than that.