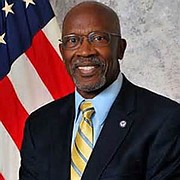 U.S. Fire Administrator Ernest Mitchell Jr. will be the keynote speaker at the annual Friendship Veterans Fire Engine Association breakfast Feb. 16 to kick off the citywide George Washington Birthday Parade day celebrations.
A former president of the International Association of Fire Chiefs, Mitchell spent more than 33 years working in the fire service industry before assuming his present position in December of 2011. In his current role he is responsible for managing the U.S. Fire Administration and the programs and training activities at the National Emergency Training Center.
"All of my life experiences to date have helped prepare me for this position, at least to begin," Mitchell said at the time of his appointment. "I've worked at the city, county, state and federal levels and held positions in nonprofit organizations at those levels as well. All that experience has helped me gain a perspective of how the fire service operates and what the issues are. Now I have a platform I can build on."
Mitchell retired as the Fire Chief and Assistant Director of Disaster Emergency Services for the City of Pasadena, Calif., Fire Department, where he served from 1998 until 2004. Before becoming Fire Chief in Pasadena, Mitchell served as Fire Chief and Deputy City Manager in the City of Monrovia, Calif., for seven years.
In previous years he served as a member of the International Fire Service Training Association Executive Board, the International Association of Firefighters Hazardous Materials Advisory Board, the IAFC President's Council, the IAFC Foundation Board, the IAFC/IAFF Labor/Management Initiative Facilitator Team, the Department of Homeland Security's Science and Technology Advisory Committee and presided over several fire service organizations, including: the Los Angeles Area Fire Chiefs Association, the League of California Cities Fire Chiefs and the Foothill Fire Chiefs. He has also been an Advocate for the National Fallen Firefighters' Everyone Goes Home Program, an adjunct instructor for the National Fire Academy and a member of the Editorial Advisory Board of Fire Chief Magazine.
Mitchell has an associate of science degree in fire science from Long Beach City College, a bachelor's degree in public administration from the University of San Francisco and a master of public administration degree from California State University at Northridge.
He is a past recipient of the IAFC President's Award for Service. In 2012 he received the Lifetime Achievement Award from the International Association of Black Professional Firefighters Black Chief Officers Committee. Most recently, Mitchell was inducted into the Long Beach City College Hall of Fame for his outstanding achievements as a leader in fire safety at the local and national level and for his service as the nation's top fire chief.
The Friendship Veterans Fire Engine Association Breakfast will be held at the Hotel Monaco at 9 a.m. For tickets or more information, email Bill Kehoe at kehoefd@aol.com or visit www.friendshipfire.net.