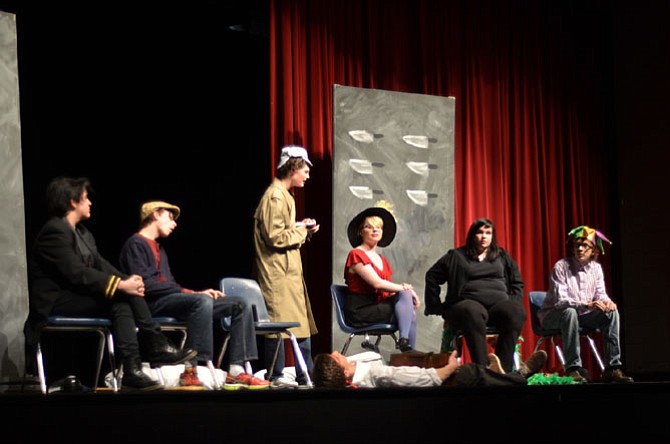 In addition to sports teams and athletics, Herndon High students have had the opportunity in February to be involved in various school activities. These have ranged from the February science fair to performing arts related groups. On Feb. 4, more than 150 projects were presented in the school science fair in a variety of categories ranging from psychology to biology. "Twenty-two projects were selected to go on to the regional science fair which will be held at Robinson Secondary School on March 20-22," said Allison Roche, AP and Biology 1 Teacher at Herndon High School.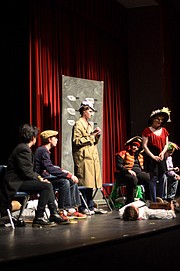 Thursday, Feb. 5, members of the school drama team presented two one act plays at the school auditorium. The plays included Jonathan Rand's murder mystery parody "Murder In The Knife Room" and Don Zolidis' "The Audition." The first play had a cast of seven and included a respected general who consulted a magic 8 ball (Allie Kassraie), a boy band reject (Jordan Rees), and a spooky pirate (Sarah Inge). Making a cameo appearance in the play was Herndon drama director Zoe Dillard. "The Audition" included a cast of most upperclassmen students and was intended to show the emotion and drama of being cast for role. "It is both funny and serious," said parent Marti Taylor whose daughter Annie Taylor played the director Ms. Torrence.
The evening of Monday, Feb. 9, the Michigan based music group The Moxie Strings visited Herndon High to offer a music clinic followed by a concert. The Moxie Strings offer listeners an opportunity to experience known instruments including the violin and old genres through a young, progressive lens. Earlier in February the group had visited other schools including Rachel Carson Middle School and Annandale High School.
Feb. 12 - 14, Herndon High School will host the District XII Chorus. More than 500 students from over 30 schools, both middle and high schools, will arrive at Herndon for a 3 day event. Herndon will host 335 high school students from 16 schools and 220 middle school students from 17 middle schools. Students had the opportunity to audition to be a part of these choirs last Fall. The high schoolers will start on Thursday night giving juniors and seniors the chance to audition for the All-Virginia Honors Choir.
Friday, Feb. 13, all students will be in rehearsals under the direction of four guest conductors. Four choirs (two middle school and two high school) will perform a public concert on Saturday, Feb. 14 at 1 p.m. and 3 p.m. respectively in the Auditorium of Herndon HS. This could not happen without the support of Herndon United Methodist Church who will host one of the Middle School Choirs on Friday. The staff at Herndon High School and the efforts of the Herndon High School Choir Boosters have been recognized for their support and involvement in this project which will help students explore their musical abilities.
Saturday, Feb. 21 at 6 p.m., the Herndon High School Step Team will host the 17th Annual Stompfest at Herndon High School Auditorium. The event will feature 7-8 middle and high school step teams who will compete for the top cash prize of $750. The cost of admission is $10 per person. The HHS Step Team is composed of female steppers (Shades of You) and male steppers (Cold Beast). The Herndon High Step Team was founded in 1994 and has represented Herndon High School in many local competitions.