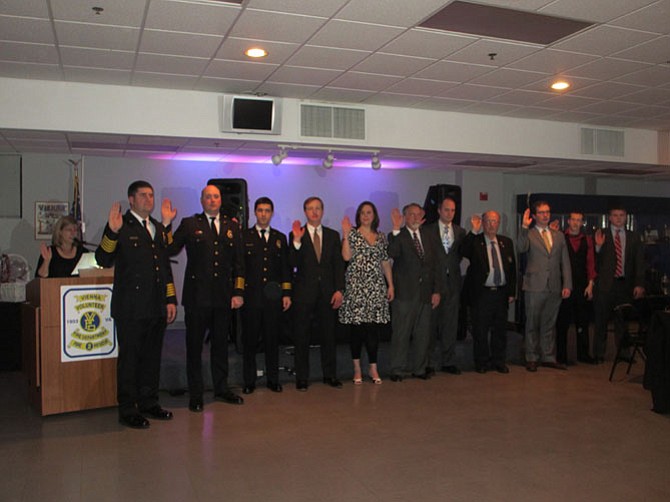 To thank the multitude of community volunteers who contributed 29,000 hours of service in 2014 to the Vienna Volunteer Fire Department [VVFD], the department hosted an "appreciation" banquet on Feb. 7 in the station's Flame Room. More than 160 guests came to support award-winners, volunteers and new elected officials as they were sworn in by Vienna vice-mayor Edythe Kelleher.
Of the record 29,000 service hours, 6,400 were performed by the administrative team, and 22,200 hours were performed by operations, supporting 24-hour response service. In 2014, 14 first-responders signed off on new positions. Nine became EMTs, one became an aide, three signed off as drivers and one became a firefighter.
Life Members, reflecting more than 450 years of combined service, were recognized for their dedicated service, each contributing 20 years or more. Charles Singleton joined VVFD 62 years ago; George "Bill" Ellis joined 59 years ago and served as Chief for 21 years. Tom Bonner joined VVFD 53 years ago, as did Gerald Miller. Forty-eight years ago, Richard Savia joined VVFD, Lauris Eek joined 36 years ago and was Bingo Committee Chair for more than 20 years. Stan Ellis joined 28 years ago, and Marshall Potter, 27 years ago. Howard Springsteen joined the department in 1988, and acted as president for nine years, overseeing a $3 million building renovation. Auxiliary president and canteen coordinator Joan Dempsey joined 22 years ago.
"Vienna is fortunate in having a number of these individuals," said Anthony Stancampiano, VVFD president. "We continually depend on them as a source of dedication, professionalism and direction within the Department."
VVFD CHIEF John Morrison presented Deputy Chief Jeff Snow with the Chief's Award, calling Snow his "right-hand" man. The Vera I. Lloyd Award President's Award was presented to Jane Towle by award namesake Vera Lloyd and Auxiliary president, Joan Dempsey. Life Member Tom Bonner presented Life Member Goldie Appleton with the Leon Freeman Award. Freeman founded the Vienna Volunteer Fire Department as a "bucket brigade" in 1903. The equipment was stored at what has become known as "Freeman House" on Church Street. Freeman served as Mayor of Vienna and delegate to the Virginia House of Delegates. Appleton has volunteered with the VVFD for 40 years.
The VVFD Auxiliary, a fundraising and support arm of the fire department in Vienna, presented the VVFD with a $15,000 check.
Local businesses donated food and amenities; Desserts were donated by Sweet City Desserts; cupcakes were donated by Kim Sgueo; appetizers were donated by Whole Foods Vienna; table flower arrangements were donated by Karin's Florist; and event favors were donated by Blackfinn Ameripub. Purple Onion catered the banquet.
TO LEARN MORE about the services of the Vienna Volunteer Fire Department and to join, visit www.vvfd.org.
--Donna Manz