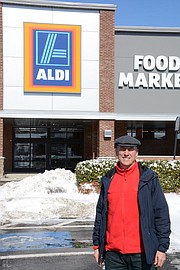 For years, the family-owned Fischers True Value hardware store on Backlick Road was a Springfield mainstay.
"If you asked people, 'What's in Springfield?' they'd say Mike's American Grill and Fischers," said Springfield Civic Association president Bruce Waggoner.
The Fischer family left over six years ago and the subsequent owners closed the hardware store about five years ago, according to Nancy-jo Manney, executive director of the Springfield Chamber of Commerce.
"We're pleased that there is a new use for that location," said Manney. "Nobody was happy to see Fischers leave, and we didn't want to see it vacant."
That new use is a fresh-faced Aldi, an international grocery store chain headquartered in Germany, that joins Trader Joe's and La Mart for offering grocery shopping options in the mixing bowl vicinity of Springfield.
"I'm pleased to see Aldi opening its doors in its new Lee District location," said supervisor Jeff McKay (D-Lee). "It's good to have a variety of shopping options, something that's good for our communities and underlines our vibrant Springfield economy, and I'm happy to welcome them to the area."
The Aldi, located at 6129 Backlick Road, will have its grand opening on Friday, Feb. 20 beginning at 9 a.m.
"We choose our store locations based on population density, proximity to competition, cost of the property and traffic patterns," Jeff Baehr, Frederick Division Vice President for Aldi, said in a statement. "We want to be conveniently based where Aldi shoppers are located."
Aldi is known for offering a wide variety of produce (around 70 types of fruits and vegetables) as well as off-brand grocery items sold for less than comparable name-brand products.
The Springfield Aldi received a significant reconstruction: The new digs feature high ceilings, more natural lighting, recycled building materials and energy-saving refrigeration and light bulbs.
Manney is most excited about Aldi's shopping cart deposit policy: To use one, shoppers must deposit 25 cents that they then recoup when they return the cart.
"It keeps the carts off of our streets and sidewalks," she said. "You're encouraged not to take the cart to your house with groceries, which is a problem in our community. This could potentially have a positive impact."
The new store is walking distance for Waggoner, who otherwise frequents Trader Joe's for its cleanliness, friendliness and efficiency. "If Aldi can do that, give the Trader Joe's experience," Waggoner said, "I'll be head-over-heels in love."
At the grand opening, Aldi is offering the first 100 shoppers in line golden tickets containing coupons of various values. For more information, visit www.aldi.us. The grocery store will be open Monday-Friday 9 a.m.-9 p.m., Saturday until 8 p.m. and Sunday until 7 p.m.