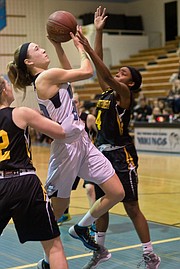 The 2013-14 Whitman girls' basketball team, which had won 20 games in row, picked a terrible time to lay an egg.
After surviving a close game against Blair, Whitman struggled on offense against Kennedy in the sectional final, including numerous missed shots from close to the rim. The result was a 46-37 season-ending loss that left the Vikings with a 21-3 record and a sour taste in their mouths.
Two days later, it was back to work.
"We lost to Kennedy on a Wednesday," Whitman head coach Pete Kenah said, "and Abby [Meyers] and Hannah [Niles] and Marie [Hatch] and Betsy [Knox] had me open up the weight room for them on Friday. It has just continued the whole time — those guys are on a mission."
Nearly one year later, Whitman has yet to lose during the 2014-15 season.
On Feb. 13, the Vikings thumped Richard Montgomery 53-33 to improve their record to 17-0. Whitman is ranked No. 4 in the Washington Post's top 20, and is the only ranked team without a loss.
The Vikings returned some talented players from last year's team who are fueled by how the season ended.
"They're incredibly motivated by last year's playoff loss," Kenah said. "It's a byproduct of that."
Whitman has regular season games remaining against Blair (Vikings won first matchup by 18 points), Kennedy (losing record) and Northwood (losing record), making it likely the Vikings will enter the postseason undefeated.
Niles said an undefeated record was one of the players' goals this season.
Whitman, which won a state championship in 1995, has never had an undefeated season.
"I would say it gets brought up," Niles said about an undefeated record, "but I wouldn't say we let it get to our heads."
Whitman has reason to be confident. The Vikings have defeated all 15 of the Maryland public schools they have faced by at least 10 points, including a 61-51 win over Paint Branch on Jan. 20, which accounts for the Panthers' only loss. Whitman opened the season with a 56-51 win over Good Counsel, a private school in the WCAC, on Dec. 5, and defeated Potomac High School (Virginia) 49-43 on Dec. 13.
"Any naysayers who think we haven't played anyone," Kenah said, "we've [faced] quality competition."
Whitman is led by the trio of Meyers, Hatch and Niles. Meyers, a 6-foot sophomore, leads the team in scoring at 16.4 points per game, according to stats from the Washington Post's allmetsports.com. Hatch, a 5-10 junior, is averaging 9.5 points per contest and Niles, a 5-foot-9 junior, is averaging 9.3.
How do the Vikings stay focused while dominating opponents?
"One of the things we have to focus on is keep our composure and keeping level-headed," Niles said. "We have to come into every game knowing that we're great and having that ego, but being able to control that ego."
With the playoffs approaching, the Vikings can simply look back to the end of last season if they need to re-focus.
"Last year ... I think that we came into the game overconfident," Meyers said. "... That loss last year, it helped us learn coming into the playoffs, it's zero-zero and we just have to give it our all and play Whitman basketball, just like we did from the start of the season against Good Counsel."
Whitman is scheduled to face Kennedy at 7 p.m. on Friday, Feb. 20 at Kennedy High School.