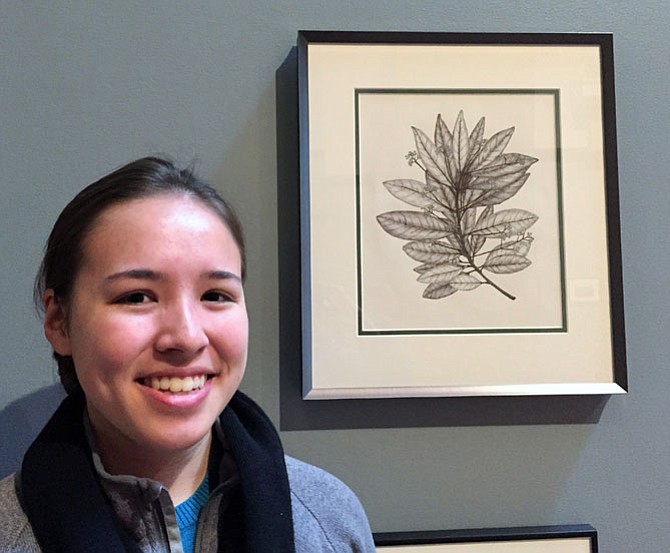 Maya Chung, of McLean, a senior at Thomas Jefferson High School for Science and Technology (TJHSST), is the youngest of 56 artists selected to have their art displayed in the "Artists at Work" exhibit at the Smithsonian's Ripley Center in Washington, D.C. Chung's black ink drawing titled "Redbay (Persea borbonia)" was inspired by a botanical sample collected in the museum's butterfly garden, and is in the style of a scientific drawing.
"Last summer I was doing scientific illustrations for the invertebrate zoology department," she said. On a school holiday, Chung visited the Q?rius, an interactive science gallery for students in the Natural History Museum where she volunteers. With her sketchbook in hand, she drew one of the botanical specimens. "I just free-handed the drawing," said Chung. "I start with pencil and then go over in pen, adding detail."
For almost two years, Chung has interned at the Smithsonian, which is also how she found out about the "Artists at Work" contest. The contest is an opportunity for Smithsonian employees to submit pieces of their art. The exhibit features sculptures, photographs, paintings and even films.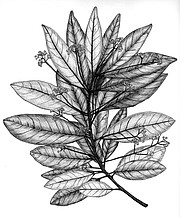 "One of my co-workers pointed it out to me and said I would be good," said Chung. "I've done a lot of scientific illustrations, but wanted to submit a really good one to the contest." Much like her artwork in the past, Chung's drawing was a standout piece. She was previously a Scholastic Art Awards regional Gold Key winner for another piece, a self-portrait titled "The Unseen." However, her primary focus is how she can use art to help others understand scientific concepts.
"I find that using art and being able to draw really complex scientific concepts is really helpful for teaching people," said Chung. "Ultimately I want to be a teacher because I love interacting with people. But there are all kinds of opportunities." While an excellent and award-winning artist, Chung plans to attend Harvard University in the fall to study physics or chemistry. She hopes to continue exploring ways to connect her interest in both the arts and sciences.
Visitors can view Chung's art at the Smithsonian, as well as other featured pieces, from now through May 1.