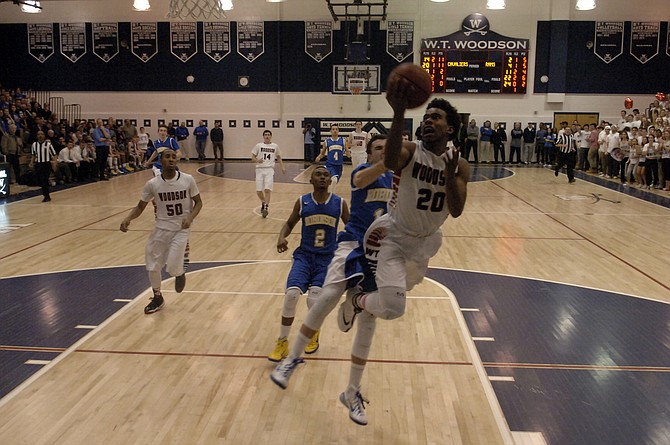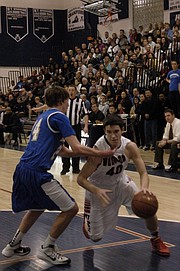 Tuesday night's triple-overtime loss in the Conference 7 championship game might have been a confidence crusher for less-experienced squads.
For the two-time defending region champion Woodson boys' basketball team, it was merely a bump in the road --- and added motivation --- en route to a bigger and brighter stage on which the Cavaliers are used to thriving.
Three days after losing to South County in the conference final, Woodson responded with a 70-55 victory over Robinson in the opening round of the 6A North region tournament Friday night at W.T. Woodson High School.
The Cavaliers failed to win a conference/district title during their region-championship runs of the last two years, helping to lessen the blow of Tuesday's loss.
In 2013, Woodson lost to Lake Braddock in the Patriot District semifinals, but bounced back with five straight victories. Woodson overcame a 19-point fourth-quarter deficit to defeat Wakefield in overtime of the AAA Northern Region final and beat Battlefield in the state quarterfinals before falling in the state semis.
In 2014, the Cavaliers suffered a one-point loss to Lake Braddock in the Conference 7 final --- their third loss to the Bruins that season --- before winning a fourth meeting with Lake Braddock in the 6A North region final.
"Conference tournament; that's numbers on a banner," Woodson head coach Doug Craig said. "We're geared toward winning the big games. If we get the conference [title, it's a plus] --- we tried to --- but it is what it is."
Woodson took control of Friday's game against Robinson midway through the second quarter. Trailing 21-19, the Cavaliers closed the first half on a 14-1 run. Senior guard Jackson Boehman buried a 3-pointer at the buzzer, giving Woodson a 33-22 advantage while causing a fired-up reaction from Craig as the Cavaliers headed to the locker room.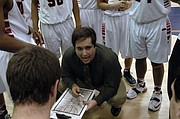 Woodson led by at least seven points throughout the second half. The Cavaliers' largest lead was 22.
"I thought we were fine," Craig said of the way the Cavaliers handled the conference final loss. "The one nice thing is we've been kind of through the ringer the last couple years --- really big games, big losses, big wins. I think we have a very mature group that understands that this time of year you've got to play really well, you've got to do all the little things right and we didn't do that really against South County."
Senior point guard Eric Bowles, the Conference 7 Player of the Year, led Woodson with 27 points.
"I feel like … the past three years [when we fell short in the district tournament], we've come out and played harder and worked hard to try to get the region championship," Bowles said. "It's a [downer] to not win the district championship, but it's also a positive because it's going to make us play harder."
Matt Ayoub scored 13 points for Woodson, and Tyler Wilson finished with nine.
"We're a really resilient team," Wilson said, "and we're really good at taking that loss like we had the other night and flipping it into positive energy coming out in region tournaments."
Boehman also had nine points for Woodson. The senior knocked down a trio of 3-pointers, the final one giving the Cavaliers a 57-37 lead early in the fourth quarter.
"He probably will tell you he didn't have the year he was hoping to have," Craig said. "He's worked really, really hard in our program and he's done everything right. Some other guys just played a little bit better than he did this year so they kind of supplanted him. He really stayed with it, though. As a senior who didn't play a lot the last four or five games, he could have kind of pouted and not worked hard, but he kept practicing really hard and working so he'd stay ready and I think it showed tonight."
Avi Silberman led Robinson with 19 points. Joey Powell added 12.
Woodson advances to the region quarterfinals, where the Cavaliers will travel to face Conference 6 champion Hayfield at 4:30 p.m. today.