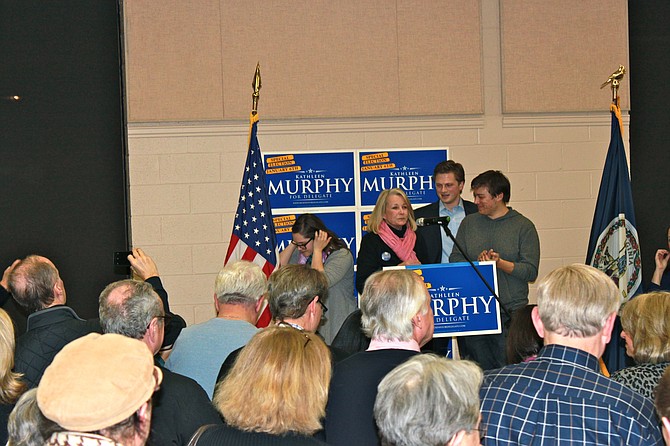 McLean — Kathleen Murphy was greeted with cheers by more than a hundred supporters as she entered her victory party at McLean Community Center.
The democrat won the 34th District seat of the state House of Delegates, 6,406 to 6,082, on Tuesday after Republican Craig Parisot conceded the race.
"I could not possibly be more proud to be the delegate-elect for the 34th District," said Murphy at her victory party. "I'm overwhelmed. I know from the very beginning, I have said this to you every single time - this was not my win. This was our win."
Parisot did not comment immediately following the election.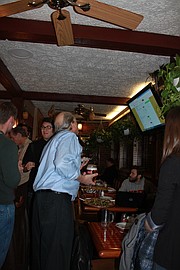 According to the unofficial results on elections.virginia.goy, Murphy won 51 percent of the vote when all precincts turned in their results.
The site recorded 12,503 votes, 15 of which were write-ins. Election officers expected low turnouts after snow blanketed Loudoun and Fairfax counties, but when the skies cleared by mid-day, residents swung by their local polling places to cast their vote.
"We were only expecting 5 to 10 percent (turnout), but we're at 12 percent right now" said Langley High School Chief Election Officer Amanda Bridges around 3 p.m. Tuesday, "Now that the snow has melted or been plowed, we've had more people come."
Although school was in session despite the treacherous weather, Bridges said there were no disruptions.
"It's out of the way," she said about the polling location inside the school. "In one door and out the other."
At Great Falls Library, doors were constantly being opened by eager voters around 4 p.m.
"We are trying to get more ballots at each site, so that indicates that turnout has been heavier than usual," said site Chief Election Officer Joe Gofus.
He said the location had the same issue as Langley High School's polling location in the morning - with most of the voters showing up after 11 a.m. to avoid the snow.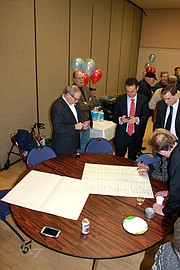 "We were at about 50 in the first three hours, and now we have around 350," he said.
Arthur Kingdom - at Murphy's table - and Grant Grieco - at Parisot's table - spent the entire 13 hours in the cold outside the library, dedicated to the candidates they represented. Kingdom said he had to go home several times to change his shoes - which became so soaked in the wet snow outside the library that his feet became painfully cold.
"I think the first voter showed up at 6:15 a.m.," he said.
At the victory party, Murphy said her first order of business is finding out her schedule for the looming Virginia Assembly session.
"I'm looking forward to it," she said.
She's not the only one. State Sen. Barbara Favola, D-31, was very excited as well.
"I think this was a vote for common sense solutions-oriented government," Favola said. "It's a great win for the 34th District."
Dranesville Supervisor John Foust said it is a win for the community.
"Kathleen in a wonderful person," he said. "I think she'll do a wonderful job representing us in Richmond."