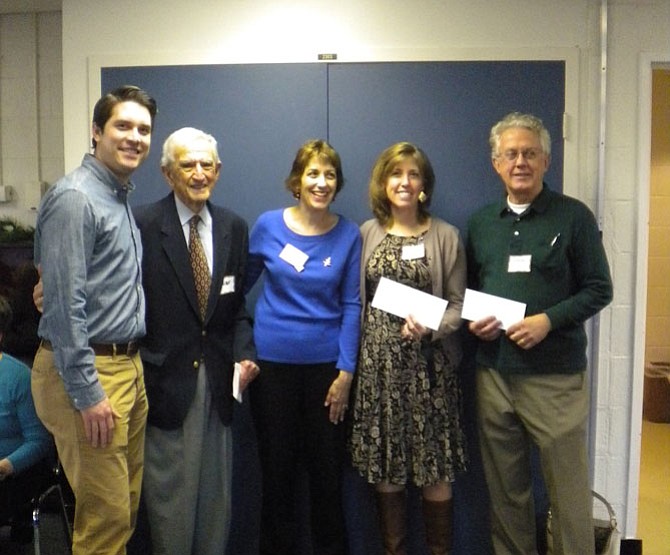 For the last 16 years, the Shepherd's Center of Oakton-Vienna (SCOV) has been hosting their Community Thanksgiving Service along with participating congregations. The money raised from the service offering is then distributed to two local charities. This year's recipients were Our Daily Bread Fairfax and The Committee for Helping Others. Each charity received $1,039 from the service collection. A harp prelude was provided by Jude Mollenhauer Duesterhaus, Principal Harpist, Columbus Symphony Orchestra. Choirs from Wesley United Methodist Church, Emmanuel Lutheran Church, Our Lady of Good Counsel Catholic Church and Vienna Baptist Church provided choral music for the service. Additional participating congregations for the Community Thanksgiving Service were Antioch Christian Church; Bruen Chapel United Methodist Church; Emmaus United Christian Church; Good Shepherd United Methodist Church; Unity of Fairfax and Vale United Methodist Church.
Founded in 1997, the Shepherd's Center of Oakton-Vienna is a volunteer-based organization dedicated to providing opportunities for adults (50+) to seek rewarding lives and to live independently in their homes for as long as possible. In 2013 SCOV provided services and programs to more than 3,000 older adults. In 2014 the National Volunteer Caregiving Network (NVCN) recognized the Shepherd's Center of Oakton-Vienna with their Program of the Year for 2014 award. Rhonda Anderson, executive director, NVCN, stated "The Shepherd's Center of Oakton-Vienna is an outstanding example of how volunteers are making a difference in the lives of those who need just a little help to remain independent and a valued part of the community."
Each year more than 200 volunteers at SCOV serve as medical drivers, companion drivers, friendly callers and visitors, health and wellness educators, office assistants, fundraisers, and grant writers. Volunteers also run programs such as SCOV's Lunch n' Life, Adventures in Learning, trips and outings, special events, and the caregivers' support group. Please 'Like' them on their Facebook page www.facebook.com/scov.org
To volunteer, donate or learn more about how you can help, visit their website at www.scov.org or contact Michelle Scott, executive director at 703-281-5088,director@scov.org.